Shopping Cart
Your Cart is Empty
There was an error with PayPal
Click here to try again
Thank you for your business!
You should be receiving an order confirmation from Paypal shortly.
Exit Shopping Cart
The New Millennial Gay Experience
Being gay in our emerging new world
| | |
| --- | --- |
| Posted on October 29, 2016 at 11:15 PM | |
By Dennis Stone
For some reason my mind keeps returning to the profile of Milo Yiannopoulos that Chadwick Moore wrote for "Out" magazine. As anyone reading this knows, the profile generated a virtual firestorm of almost universal criticism from the queer community. (The only other voice I've come upon that countered the mob mentality was editor Berlin Sylvestre in "OutFront.")  Perhaps part of my fixation is the near unanimity with which my community expressed itself in opposition to how I thought about the situation. As a gay person I'm in a small minority in society, and now on this issue I'm in a small minority within that minority.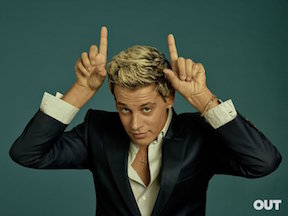 I read the profile yet again, and read my critique of the firestorm yet again. I still think I'm right, and have logic (and journalism) on my side. That's not to say that I would have written the same profile Moore did. In fact, I was aware throughout my first read of the profile that I would have handled some things differently. But I could nitpick almost any piece I read, and on a journalistic level that's a fool's errand. The profile was journalistically sound, and was not the "fawning puff piece" so many others - content with nothing less than a vicious takedown of a demon - perceived it to be.
There is, however, one area where I could refer to the profile as flawed, or at least where I could suggest it could be improved and provide a more complete picture of Yiannopoulos. Milo is routinely referred to as a racist, but he says he's not because he only has sex with black men. He then criticizes the presentation and tactics of the Black Lives Matter Movement.
Those comments don't really tell us much, and they scream out for a bit of exploration. Having sex with black men doesn't mean a person isn't racist, and criticizing the methodology of BLM doesn't mean that he is. With race such a dominant cultural issue today, and with Milo's supposed racism being perhaps the primary reason for why he's hated, Moore could have attempted to probe deeper, to get beyond the facile word games that Milo so blithely plays.
Seriously, Milo, what do you think of black people as a race? Where do they fit into American society? I'd follow that up by pointing out the fact that the alt-right movement is increasingly becoming the "gathering place" for a large number of virulently racist and xenophobic people. I'd ask if it made him uncomfortable to be seen as a spokesman for a movement that attracts that type of person.
The scary part of the Milo phenomenon is not Milo himself. He's more impotent, and more the clown from the "Out" piece, than his critics understand. He thinks he's fighting the idealistically good fight of opposing political correctness and affirming free speech and free thought. And having a good old time outraging the easily outraged. The scary part of the story is not Milo, but the rise and prominence of the violent and truly radical far right wingers who have coalesced under the alt-right banner.
Attempting to clear up Milo's racial views and adding the context of the xenophobic underbelly of the alt-right would have given a bit more edge to the piece. Certainly not enough to silence the critics, but perhaps enough to mitigate some of their outrage.
Categories: Commentary
/