Shopping Cart
Your Cart is Empty
There was an error with PayPal
Click here to try again
Thank you for your business!
You should be receiving an order confirmation from Paypal shortly.
Exit Shopping Cart
The New Millennial Gay Experience
Being gay in our emerging new world
| | |
| --- | --- |
| Posted on January 17, 2016 at 3:15 PM | |
By Dennis Stone
When David Bowie declared to "Melody Maker" magazine in 1972 that he was gay, it was a sensation, in both the mainstream and gay worlds. Celebrities simply didn't come out in that era, which helped the straight world to maintain the idea that gay people were sick and sinful oddities hiding in the dark corners of society. (All psychiatric associations still classified homosexuality as a mental illness.) But there was Bowie reveling in the identity, and not being at all subtle about it. "I'm gay, and always have been," he told the magazine. That led to cover stories in many of the most popular and most mainstream of magazines. Imagine the uproar and worldwide discussion had the internet existed in 1972!
The announcement was equally as sensational in the gay world. As I'm sure you know, Bowie died this past week, and there have been a lot of comments from gay people about how much impact his announcement had on them during their youthful, formative years. Today there are literally hundreds if not thousands of well-known gay celebrities for young people to relate to and look up to. That was not the case in 1972, and so David Bowie filled an aching need for many. Bowie was an emerging superstar, and he was gay!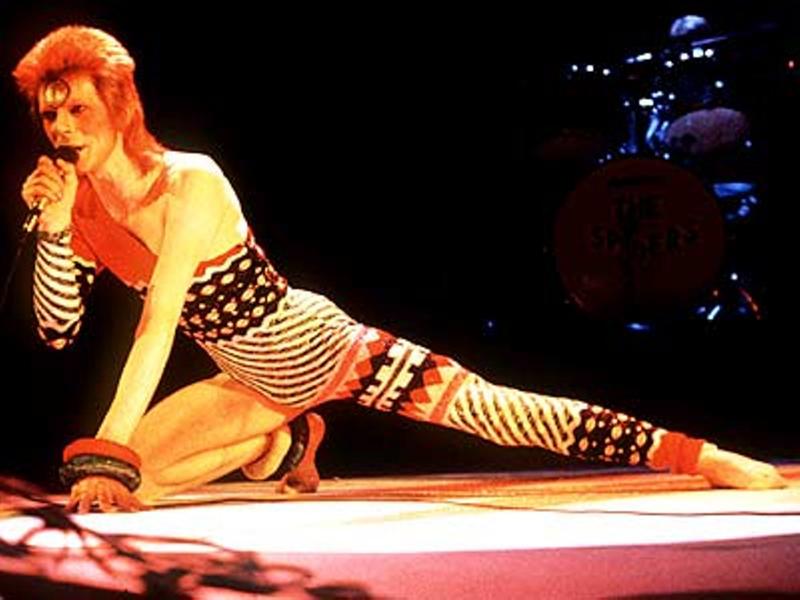 Despite the unambiguous nature of his statement, there was still some uncertainty in a lot of people's minds. He was married, after all, and his wife did not leave him after the story came out. Further, he was at the time adopting the role of Ziggy Stardust, and some wondered if being gay could, at least to some extent, be simply a part of the act. Perhaps he was bisexual, some wondered.
And sure enough, in 1976 he said this to "Playboy" magazine: "It's true – I'm bisexual." That seemed to make more sense, considering he was still married to Angela. But then in an interview in 1983 with "Rolling Stone" he went all the way to straight, telling Kurt Loder that his prior declarations were "the biggest mistake I ever made." He went further in a 1993 interview with "Rolling Stone" in a way I still find both humorous and intriguing: "I think I was always a closet heterosexual." In an era when real gay people overwhelmingly stayed in the closet David Bowie was "coming out" as gay or bisexual, while in essence hiding his real identity as straight. Wow!
A couple of observers have pointed out the irony that Bowie went the opposite direction of most celebrities. He waited until his career was fully established before he "dared" come out as straight! For that alone he has my undying awe and admiration.
Based on everything I've read and heard he was indeed a basically straight man. He had no "hard wiring" pushing him toward men. According to the 1993 "Rolling Stone" interview, he did indeed have sexual interactions with men, but he just didn't enjoy them. He tried to be gay, in other words, but he just didn't have it in him!
So what was going on here? It appears that Bowie was genuinely enamored of the offbeat, the transgressional, the taboo. Again from the 1993 "Rolling Stone" interview: "I was more magnetized by the whole gay scene, which was underground. Remember, in the early 1970s it was still virtually taboo. There might have been free love, but it was heterosexual love. I like this twilight world. It was like another world that I really wanted to buy into." He told biographer David Buckley that he was driven by "a compulsion to flout moral codes." The man who later wrote the song "Rebel Rebel" wanted to be exactly that.
Why then did he retreat from gay to bisexual to straight? Why did he ultimately refer to his transgressional gay declaration as the worst mistake he ever made? It appears it was because he was reacting with a "new millennial gay" outlook, again ahead of his time. It didn't bother him that people thought he was gay, but it did bother him that the identity tended to dominate people's perception of him. As many might say today, he didn't want to be defined by his sexuality, he didn't want to be boxed in as "the gay rocker." He wanted his sexuality to simply be one aspect of an integrated whole, where the artistry was far more important. A lot of people pull that off today. In the 1970s it wasn't so easy. As he told "Blender" magazine: "I had no problem with people knowing I was bisexual. But I knew what I wanted to be, which was a songwriter and a performer, and I felt that bisexuality became my headline over here [in America] for so long."
David Bowie may not have been gay, but he still resonates for me as a gay icon. He boldly stood up and claimed the mantle when almost no one else dared do so. He even tried hard to make it real! Beyond that, he was, as J. Bryan Lowder of "Slate" magazine says, "culturally gay." He identified with the outcasts, the rebels, the people who wanted to break the mold of what human beings could be.
RIP David Bowie.
Categories: History Lessons
/