Shopping Cart
Your Cart is Empty
There was an error with PayPal
Click here to try again
Thank you for your business!
You should be receiving an order confirmation from Paypal shortly.
Exit Shopping Cart
The New Millennial Gay Experience
Being gay in our emerging new world
| | |
| --- | --- |
| Posted on April 9, 2014 at 2:15 AM | |
By Farid-ul-Haq
The explosive season finally came to an end this week. No Gallagher was left untouched as they all got scenes that set things up for their individual storylines for season 5.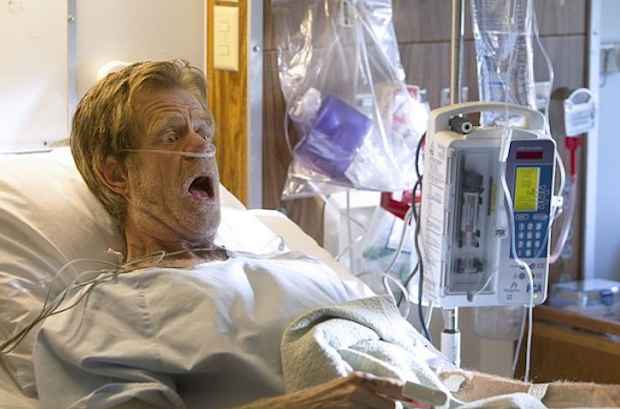 Frank looks like he's reacting to the shocking ending to season 4.
Fiona is back
Fiona finally did the right thing this episode. She refused a pill an inmate gave her, and that led to her testing negative on a surprise drug test. She was released from jail because of over-crowding, and I look forward to some positive developments for her next season. I have had my fill of watching the "bad Fiona." I want her to learn from her mistakes and become the responsible and sensible adult she really is, especially after Ian's reveal.
Ian really is bi-polar
Fans have been expecting Ian to take after his mother since he returned. He entered the depressive stage of his illness. Seeing Mickey being concerned about him hurt me right in the feels. He kind of got into a fight with Fiona because he didn't want Ian to enter an institution. I want Mickey to understand that Ian needs all the help he can get. I don't want him to make things worse for his boyfriend and then regret things in the end. Seeing the Gallaghers try to get Ian out of bed was tear-jerking. There are rumors that Ian's condition was triggered because of something that happened when he was away in the Army. I am ready to sit through the whole "Ian being bi-polar" ordeal and the drama that ensues as long as he and Mickey show up in every episode next season.
Lip and Mandy
I'm angry at the show for not addressing Mandy being beaten by her boyfriend. I think they will touch on that next season. Lip seems to be in an awkward position trying to juggle his feelings for Mandy and the new girl Amanda. As far as I know, I don't see Amanda and Lip working out. I'm just worried about the damage the show might do before the relationship comes to an end.
Frank, Sheila, and Sammi
Frank doesn't remember marrying Sheila. I mean, who can blame him? Sheila was unable to adopt the nieces and nephews of Roger Running Tree, which didn't come as a surprise. I hope her character gets more to do next season. She has experienced mental illness first hand. So, maybe she can help Ian cope with things?
Sheila also told Sammi to go away, but that didn't happen and Frank's daughter moved into an empty plot near Sheila's home.
Stevie/Jimmy is back!
Fiona's ex-boyfriend - who we all though was dead - made a surprise appearance at the end of the episode. As long as he doesn't cause any more trouble for the Gallaghers I'm fine with it.
What did you think of the season finale?
Categories: Other Voices
/