Shopping Cart
Your Cart is Empty
There was an error with PayPal
Click here to try again
Thank you for your business!
You should be receiving an order confirmation from Paypal shortly.
Exit Shopping Cart
The New Millennial Gay Experience
Being gay in our emerging new world
| | |
| --- | --- |
| Posted on April 1, 2014 at 11:35 PM | |
By Farid-ul-Haq
This week was all about the gay characters Ian and Mickey, and I loved it! Noel Fisher, who plays Mickey Milkovich, was amazing in this episode. So, let's start!
Ian and Mickey
The show really played with fan feelings when they sent Ian to the Army and didn't confirm his return. However, all my worries were laid to rest when he showed up and reunited with Mickey. Yes, they both love each other, but it seems Ian didn't want to remain Mickey's "secret." The episode focused a lot on Ian trying to make Mickey come out of the closet in front of everyone. Even his father. Did Ian force him? Yes, he did. But I get why he did such a thing. A character like Mickey would never come out unless pushed out. And besides, Ian didn't hold his hand and drag him out. He told Mickey he'd break up with him if he didn't. I don't think of that as force. In a sense it's even healthy, as far as I'm concerned. No one should remain in a relationship with a closeted person. It'll most probably end up in heartbreak.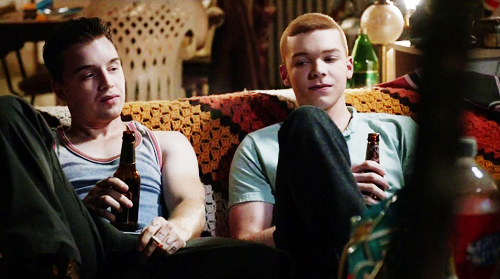 Mickey came out in front of his family and friends at his son's baptism party. His father, fresh out of jail, exploded and started to beat Mickey up. Ian stepped in to help, but in the end the police had to be called. Mickey also stood up against his wife, and I was glad he did. I am happy Mickey is out and proud, but I'm dreading how the show will handle Ian's condition. This week's episode was entertaining, but I have a feeling the show was taking it easy before a gut wrenching season finale next week.
Frank, Fiona, and Lip
Frank kind of lost his memory after his operation, and thought of a little (about to die) girl in the hospital bed beside him as Fiona. I appreciated the show trying to make us feel for Frank, but it's just too late now! He did show emotion when the girl died (she was still Fiona for him), but unless that brings a change in his character it was a waste of time.
Fiona was taken to prison. I hope she comes out soon.
Lip got $10,000 from Amanda's parents because they don't want him to date her. However, it's all a game that Lip and Amanda play because she's been doing that with all her boyfriends who she knows her parents won't approve of.
Debbie made nice with the twenty-something boy she's been crushing on, and he agrees to take her to the dance.
Like I said, this week was all about Ian and Mickey. Yes, they have a weird relationship, but that's part of the charm. Let's see what the finale has to offer next week!
Categories: Other Voices
/