Shopping Cart
Your Cart is Empty
There was an error with PayPal
Click here to try again
Thank you for your business!
You should be receiving an order confirmation from Paypal shortly.
Exit Shopping Cart
The New Millennial Gay Experience
Being gay in our emerging new world
| | |
| --- | --- |
| Posted on March 25, 2014 at 11:05 PM | |
By Farid-ul-Haq
Fiona can only go up
Last week's episode ended with Fiona crying in front of Robbie, and I knew it wasn't going to end well for her. In true "Shameless" style Fiona goes from bad to worse, spending the night with Robbie and his friends. She violates her parole and gets left behind as her new friends drive towards Wisconsin. I think Fiona has really hit rock bottom, and hopefully she will start getting her life in order after the ordeal.
The good thing about a missing Fiona is that it makes the Gallagher kids come together as a family. Even if Lip had been having arguments with her, he genuinely cares for her. They share a very heartfelt scene when Lip goes to pick her up. Debbie also shows concern about Fiona, and I was glad the episode didn't give her an "I need to lose my virginity" storyline this week. Debbie's character is far more than that.
Frank, Sammi, and Sheila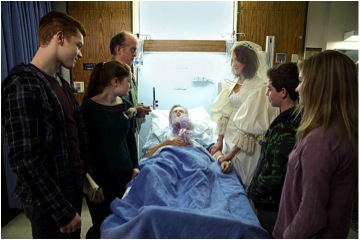 Sammi and Sheila come up with a plan to get Frank a liver transplant through the black market. Sheila just wants him to live just a while longer so she can marry him and adopt the kids of her ex-boyfriend. I really enjoyed the scenes, especially the one where Sammi misunderstood Frank and thought he was dying, and Sheila went to bring him back to life. In the end, Frank doesn't get a liver transplant from the black market, but instead his kidney is stolen! Don't know if the show is messing with me, but that propels him higher on the transplant list, and he gets a liver just as Sheila gets to marry him. I don't think Frank's going to let her off so easily, especially when money is involved.
Ian and Mickey
Something is terribly wrong with Ian, and Mickey seems to have sensed that this week when Ian attacks Mandy's abusive boyfriend with a knife. I think the season is gearing for a big reveal regarding Ian that will probably be the focus of next season. Mickey also gets into a fight with Kev, but I think it was played out for comedic effect. Either way I think Ian really is bi-polar. I just hope the show doesn't send him to some institution, and thus off-screen, in order to deal with it. The show needs the dysfunctional Ian and Mickey relationship.
The preview for next week's episode doesn't bode well for Ian and Mickey. Let's see how the show messes us up next week!
Categories: Other Voices
/