Shopping Cart
Your Cart is Empty
There was an error with PayPal
Click here to try again
Thank you for your business!
You should be receiving an order confirmation from Paypal shortly.
Exit Shopping Cart
The New Millennial Gay Experience
Being gay in our emerging new world
| | |
| --- | --- |
| Posted on March 19, 2014 at 12:15 AM | |
By Farid-ul-Haq
The writers really know how to give "Shameless" viewers scenes that tug at the heartstrings and make them yell out in disbelief in the same episode. Debbie and Carl went on their little adventures this week, Fiona continued to face hardships, and I still can't make sense of what's happening with Ian and Mickey. And Sheila came back!
Fiona still in trouble
Fiona is trying to make ends meet for the family, but prospective employers aren't accepting of the felony charge she has. I liked seeing Fiona do what she can in order to make money. However, seeing her run ten blocks in the snow didn't give rise to any sympathy from me. The show needs to do something more if they want us to forget all the bad decisions she has made since the season started. I mean, is the show even trying to make the audience forgive her? Because at the end of the episode she went crying to Robbie, and all I could do was yell at Fiona to get away from that man.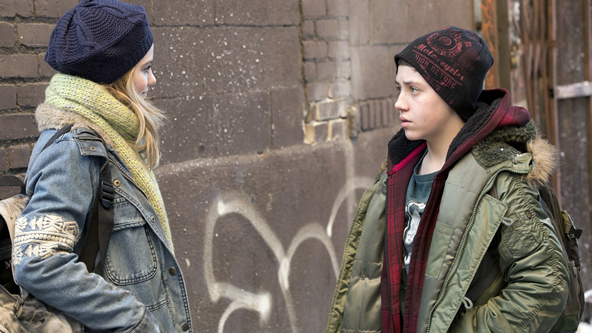 Carl and Bonnie
Carl and girl-Carl?
Debbie becoming a stalker! Carl found a female version of himself during detention. I was expecting the whole thing to be cute (at least by "Shameless" standards), but the girl version of Carl is no better than the boy version. Heck! It's more destructive. I'm excited to see where the show goes with this. However, I don't want to see Carl getting into major trouble.
Debbie continued on her track to earn a place on my "I hate this character" list. The good news was that the girl she was threatening didn't take kindly to it, and faced her with a baseball in hand. Who knows, the two might end up being friends.
Ian and Mickey
Mickey's wife came to the Gallagher's with their son in hand because he has been living there for about a month now. I understand why Mickey doesn't want to be a father. He was basically raped and then forced to marry her. However, his wife isn't having any of it, and she threatened to tell his father unless he pays up. Which he did with Ian's help and blackmailing a rich closeted man. Ian has been acting weird all season, but I liked the scene where he went to Mandy with Liam's old clothes so she could give them to Mickey's baby. I miss "that" Ian. The one who cared about others. At this point, if Ian is revealed to be bipolar like his mother I wouldn't be surprised. Sheila and Frank So, Shelia came back and decided to marry Frank because she wants to adopt all the kids that Roger Running Tree has. I guess I can only wait and see how the whole thing doesn't work out. As expected, she didn't do anything about the missing furniture in her house...sigh!
With only three more episodes left this season I can't wait to see how they wrap everything up. Will Frank die? Will Fiona stop making bad choices? Will Ian start making any sense?
Categories: Other Voices
/