Shopping Cart
Your Cart is Empty
There was an error with PayPal
Click here to try again
Thank you for your business!
You should be receiving an order confirmation from Paypal shortly.
Exit Shopping Cart
The New Millennial Gay Experience
Being gay in our emerging new world
| | |
| --- | --- |
| Posted on March 11, 2014 at 11:45 PM | |
By Farid-ul-Haq
There was no "Shameless" last week and I can't even begin to explain how I managed. Anyway, the Gallaghers came back this week and it was an awesome episode.
Lip and Fiona
The tension between the siblings has been a focus throughout the season. Fiona is trying to make up for what she did to Liam the best she can. However, her best just doesn't cut it when she lets the food burn after sharing some drinks with Veronica. Fiona and Lip get into a fight...again, and he leaves with Carl and Liam. I enjoyed Fiona break down after that. I really think Fiona needs to help herself straighten things out because no one is going to do it for her. In the end, Fiona and Lip come to an understanding but based on what I've read you can expect more hardships for Fiona before the season finale.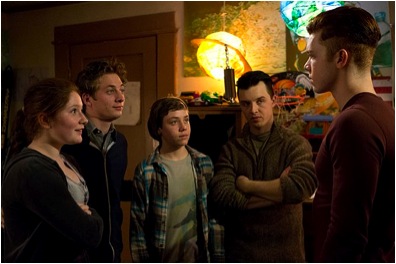 Frank and Sammi
It seems Samantha's bad side is finally showing. In order to get some money (she says she needs it for Frank's operation), she hatches a plan that involves putting Sheila's house up for sale. First the father-daughter duo move in, and then they start collecting money from interested parties. I don't know how long this con will continue. I was half expecting Shelia to show up in the episode. But then again it wouldn't do any good because she isn't a character who will report Frank and Sammi to the police.
Ian and Mickey
I was glad to see Ian return to the series, but the Ian I am seeing isn't the Ian I know. What has happened to him? I want the old Ian back. The new Ian manipulated Mickey to go down on him, and I couldn't believe Mickey agreed. I want Mickey to stand up for himself and knock some sense into Ian. Yes, Mickey was able to be openly gay in front of other people, but I couldn't help but feel he was being himself in front of an Ian we aren't familiar with.
There are only four more episodes left. Fiona needs to provide for her family again, and her siblings should cut her some slack. I can't get over the fact Debbie doesn't remember all Fiona has done for them and is comfortable ignoring her. (The same goes for Carl.) She also needs to stop obsessing over losing her virginity.
What did you think of this week's episode?
Categories: Other Voices
/