Shopping Cart
Your Cart is Empty
There was an error with PayPal
Click here to try again
Thank you for your business!
You should be receiving an order confirmation from Paypal shortly.
Exit Shopping Cart
The New Millennial Gay Experience
Being gay in our emerging new world
| | |
| --- | --- |
| Posted on March 11, 2014 at 12:15 AM | |
By Neyronrose
I have helped out with editing on this site, especially with the history articles, since it began. Dennis has always known that I'm passionate about "Glee," and so he asked me to participate in the recent "Glee Roundtable" discussion. And he recently came up with another question for me.
First, a few words about my viewpoint on "Glee" as a television show.
"Glee" is fiction. Although it has many real world references, it works much differently from the real world. Some of those real world references are history rewritten, and some put a "Glee-world" twist on real world pop culture events and figures. Sometimes things are true in the "Glee" world and not true in the real world, and sometimes the characters are just wrong. The "Glee" world is not the real world, but some things feel the same. I see familiar reflections here and there.
The cast of characters is diverse in a number of ways. This gives some fans characters to identify with that they otherwise rarely see on television. This includes multiracial characters, disabled characters, and GLBT characters. The writers show minority characters encountering prejudice, mostly from characters that have privilege over them in some ways. Some of the prejudices are not called out, but with some, the audience or parts of it can realize that the prejudice is wrong.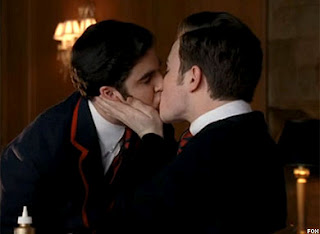 To some extent, New Directions becomes a safe space for characters who encounter prejudice elsewhere, and some of the New Directions characters learn to be less prejudiced towards others. Artie, for instance, is called out for being sexist by Tina in "The Power of Madonna" (season 1). Artie still has a ways to go with learning to be less sexist, but so do most of the other male characters. Artie was at least given something to think about, and apologized to Tina. The other New Directions students learned some things about what life is like for someone who uses a wheelchair in "Wheels" (season 1). That gave them more empathy for Artie. With some issues, characters and parts of the audience are educated, and hopefully learn to see past the stereotypes they have to look at a character as a person.
One thing I like about Glee is how the characters in New Directions are shown as individuals, and how some help and support each other.
Here's the question Dennis posed to me: "An interesting viewpoint would be why you (and other women, both straight and gay) are so interested in Kurt and Blaine, as opposed to the lesbian characters (or, in the case of straight women, the straight relationships). I won't say I understand it myself, and any phenomenon that's not really understood makes a good subject."
I can't speak for other women, but below is my personal perspective on that issue.
Why do I identify more with Kurt and Blaine than with the women?
I reminded Dennis that there are more sexual orientations on Glee than straight and gay. Personally, I don't feel that I have a sexual orientation one way or another. Given that, you might expect that I'd relate most to Brittany. In season 3 ("I Am Unicorn") Brittany said that Kurt was a unicorn and she was a "bi-corn," Later in the season, she also talked about her "fluid teen sexuality." I identified with her about that, although it's been a long time since I was a teenager. Other than that, though, I don't identify with Brittany. Some characters, like Kurt, Santana and Artie, seem to accept a mutual view of their reality. They might not like it, but they generally agree about what's going on. Brittany does not have that view of reality. I don't see things in the unique way that Brittany does, the way that Artie describes as "magical."
I really don't identify with Santana at all. She was one of the popular girls, and I was never popular. I could understand that she had reasons to be angry, but it seems to me that she's also cruel just for the sake of being cruel. She's made some biphobic statements along the line, which just put me off further. To be fair, Kurt has also made biphobic statements (season 2, "Blame It On the Alcohol"), but it didn't feel as personal to me when he said the things he did.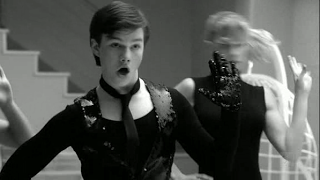 I didn't identify with any of the straight girls on Glee. I identify with Kurt. I was never fashionable, so I don't identify that way. I was not popular in high school because I had little in the way of social skills, so I can understand about not fitting in. Kurt grows to become proud of who he is, and I admire that. I think of his story as being something of an "Ugly Duckling" one. Kurt has his faults, but he's loving towards people he trusts, and that's also something I really like to see.
I find Blaine likeable. He's usually polite, although he can be hilariously blunt. He's charming and charismatic. Blaine also has his faults, but for the most part, he's kind and treats people well. Many girls and some boys swoon over Blaine, and I am among them. I never thought Darren Criss actually looked fifteen or sixteen when he was playing Blaine in season two and onward, so I don't really feel guilty.
Like many fans, and as suggested by the title of this piece, I enjoy the romance between Kurt and Blaine. I like them as individual characters, though, too. Unlike on some soap operas, the characters did not turn straight when the couple broke up, and I appreciated that. There's so much more to them than the romance. They're aware of gay culture, politics and issues. Kurt and Blaine say and do much that I recognize from my background of interacting with teenaged gay boys.
In Kurt's words, he doesn't "pass" as straight (season 3, "I Am Unicorn"). I know boys like that. Kurt has to navigate a life of being instantly assumed to be gay. I think there are many people interested and sympathetic in seeing the various strategies he uses. The characters around him know that if they're seen interacting with him in a friendly manner, they will almost certainly be assumed to be gay-friendly. Some of them deal with that better than others.
Blaine was gay-bashed when he was probably around fourteen or fifteen (season 2, "Prom Queen") and "taunted" for being gay (season 2, "Never Been Kissed"). My opinion is that this may contribute to why he feels the need to be the center of positive attention. Blaine is usually pleasant about it, but he likes to be in control of situations (season 5, "Puppet Master"). When I was trying to figure out why he acted the way he did in "The Break-Up" (season 4), I remembered reading The Velvet Rage: Overcoming the Pain of Growing Up Gay in a Straight Man's World by Alan Downs. I read the book again, and thought that it could explain a lot about Blaine.
As I stated above, I only identify with Brittany in her fluid sexuality. I don't identify with Santana, and she puts me off in several ways. I find Kurt and Blaine much more sympathetic and understandable characters. I am not a member of the gay community, but from my outsider viewpoint, the writers of the show display a good understanding of gay men's stories. There are many familiar aspects of Kurt and Blaine's stories that go with what I've seen in real life. I like romance as much as anyone, better than some, but I also like how Kurt and Blaine are so much more than their romance.
In the end, reasons I relate to Kurt and Blaine include that they have ways that they're not privileged, and I have faced in my own life some of the challenges they have faced, like being seen as less than and not being taken seriously. They paid prices for being themselves, but they taught their peers about being more tolerant. They may exist in an unreal world, but they feel real to me, and resemble gay teenagers I have known. Most importantly, I like them. They make me care about them, and I want them to succeed, both individually and as a couple.
Categories: Other Voices
/