Shopping Cart
Your Cart is Empty
There was an error with PayPal
Click here to try again
Thank you for your business!
You should be receiving an order confirmation from Paypal shortly.
Exit Shopping Cart
The New Millennial Gay Experience
Being gay in our emerging new world
| | |
| --- | --- |
| Posted on March 6, 2014 at 1:10 AM | |
By Dback
Things we learned from Sunday: Jared Leto has a beautiful face as well as a beautiful soul, and cares deeply about all sorts of people from AIDS victims to Ukranians. (Trans activists are apparently still mad that he didn't single them out specifically in his speech, but there you are.) In contrast, Matthew McConaughey apparently cares deeply about…Matthew McConaughey. A good bunch of winners nonetheless, though Lupita's brother gets my "no class" award for jumping into the infamous Selfie Seen Round The World; if I was with my sister at an industry function (really, that's what it was), I wouldn't push my way into the front of the shot at her expense--not to mention poor Liza Minnelli's.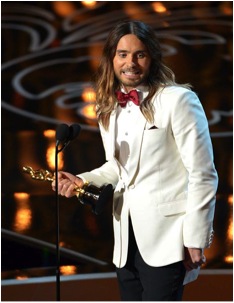 Jared Leto
The Nets have extended Jason Collins' contract by another 10 days, after which they need to decide whether or not to sign him for the rest of the season. (So this is how things are done in Straight People World!) Off the court, Collins met with the family of Matthew Shepard, whose 1998 murder inspired Collins' jersey number of 98. Orders for copies of the jersey are apparently melting the Nets' phone lines, and the NBA has announced that proceeds from the sales will be donated to two LGBT charities. However you slice this, it's potentially mist-inducing to the eyes.
"Looking" has been renewed for next season just as viewership began to climb and the show (finally!) hit its artistic stride, developing compelling plots and more complex characterizations. In retrospect, it took "Sex and the City" a few episodes to really settle into its groove, so maybe this is just par for the course. (The show is still glossing over the increasing impossibility of working-class people being able to live within the San Francisco city limits, however.)
It looks like one of the next states to possibly legalize same-sex marriage—or at least recognize out-of-state marriages—will be…Kentucky. (!?!?!) State attorney general Jack Conway (arguably the hottest politico in America next to Pennsylvania Rep. Brian Sims, or that Kennedy who looks like a red-haired Christopher Reeve) announced this week that he will not defend the state's ban on same-sex nuptials, and even choked up during a news conference explaining how he couldn't support discrimination. Kentucky! Land of juleps, the Derby, and strip mining. I haven't been this startled since a TV interview in 2008 with a straight biker couple outside an Appalachian bar, where the woman explained she wouldn't vote for Obama because "he's a Muslim." Interviewer: "So, you're for John McCain?" Woman: "Hell, no! We're voting for HILLARY!" I nearly had a seizure.
Oh, and still speaking of Kentucky, former Miss Kentucky Djuan Keila Trent has come out in a blog post as "queer." Shades of "Miss Congeniality"!
Cool gay videos found this week: "Back To California," a new, sweet love song from Steve Grand dedicated to those girls in high school who helped guide us out of the closet and were our best friends. A scorching 2013 video from Sebastian Castro called "Bubble" for those looking for something more salacious. And Eli Lieb covered Adele's James Bond theme "Skyfall." (Can "Let It Go" be far behind?)
Hope you had a great week!
Categories: Other Voices
/