Shopping Cart
Your Cart is Empty
There was an error with PayPal
Click here to try again
Thank you for your business!
You should be receiving an order confirmation from Paypal shortly.
Exit Shopping Cart
The New Millennial Gay Experience
Being gay in our emerging new world
| | |
| --- | --- |
| Posted on March 2, 2014 at 3:20 PM | |
Question:    Ignore the ships and gay content merely speculated about by fans. Based on what's on the screen, what do you think of the gay content in "Teen Wolf?" What are your thoughts about Danny?
John:   I'm currently three episodes behind so I may be wildly out of date. "Teen Wolf" has more gay content than 99% of every other show on TV, which is a good thing, but there is always room for more. Danny's presence on the show was initially in relation to Jackson and with that character's departure the series has struggled to integrate Danny with the other lead characters. His relationship with Ethan has been a good way of starting that process, and I hope that relationship continues to develop and serves as a conduit for bringing Danny into the supernatural fold.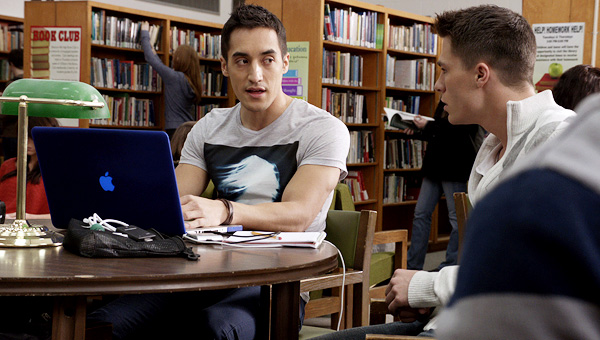 Dean:    I'm also two episodes behind (last I saw, Stiles had had the brain scan and his "evil" nemesis turned out to be…him), so I have no idea what's currently happening with Danny this week. Based on the past three seasons, however, I think he's been given a decent amount of screen time; however, I'd like him to have another plot thread that really ties INTO the plot. (Remember the bit with the Kanima in the gay dance club?) I really appreciated the arc he had with Ethan, however, and that he definitely has some sort of sex life (which is more than can be said for most of the main characters).
Farid:   Shipping aside, most of the gay content I see on the show is very superficial. If you consider a hot looking male cast, a lot of them being shirtless, then the show can be considered as "eye-candy" for gay people. Yes, Danny is there, but I don't think having a background character in the show should count as gay content. One of the werewolves is gay. So, if you like Ethan, you might find the show interesting as far as character gayness is concerned.
I am still hoping for Danny to get a bigger role in the series. Even as a secondary character. It's quite obvious the fans love him. I don't know why Jeff doesn't write him a meatier role. Something that actually connects to the plot of the episode. Danny as an idea is quite interesting: a gay character who's living in a non homophobic world. But that's all he is, an idea that pops up two or three episodes a season. Does he bring something to the plot? No. The same for Ethan. Even if he was straight it wouldn't have changed the way the story has been playing out in season 3 because his relationship with Danny doesn't hold any impact to the plot.
Lane:   Here's the thing: as far as screen time goes the gay content is lacking as compared to other aspects of the show. Danny and Ethan are secondary characters, they always have been. But I don't watch this show because it's a "gay" show. I watch it because I legitimately enjoy it. The fact that there is gay content is simply icing on the cake for me. Would I love it if Danny and/or Ethan took a more central role to the plot? Certainly! I also understand that you can only tell so many stories at once. I would really only have an issue with the gay content if I thought it was merely a marketing ploy, and I don't get that feeling. Danny and Ethan may not get a lot of screen time but when they do they are shown as full and complete individuals with active sexual lives. That's more than can be said for some shows that have featured a gay series regular character.
In other words if I were to have created my "perfect" Teen Wolf scenario then the best-friend-side-kick character (Stiles) would have been gay from the beginning. That being said, I take no offense to the current handling of gay content on the show.  
Dennis:   Danny's original purpose on the show was to be Jackson's best friend (and not part of the supernatural world; in those early, innocent days the supernatural world was exclusive and fleeting, not dominating the show's universe as it does now). What people don't realize is that, once Jackson left, Danny would have disappeared from the show entirely, EXCEPT for the fact he's gay. Jeff Davis didn't want to lose a gay character, and so Danny was kept on the show.
People are complaining because the show doesn't have a gay main character. And therefore it's not a "gay show," or it is even anti-gay. (WTF???) I've been giving this issue a lot of thought. Are we somehow "entitled" to a gay main character on this or any other show? On what basis? Because the creator is gay himself? When the show was conceived there were at most six main characters. Four of them constituted two couples (Scott and Allison; Jackson and Lydia) that were the centerpiece of the show's personal dynamic. That leaves Derek and Stiles. Is there some reason that we are entitled to have one of those characters be gay? The show hasn't added any more "main" characters, and of the additional regulars one of those is gay. And has a relationship with Danny that includes kissing and actual sex. (And this is an anti-gay show?)
Less than 5% of Americans identify as LGBT in survey after survey (though the numbers rise when the concept of "fluidity" is added). In "real life" the odds that any of the main characters in the Teen Wolf universe would be gay are small. That's just how things are, folks. The idea that a main character must be gay for the show to be gay friendly is absurd. And it overlooks the importance of portraying a world with no homophobia, and a world where being gay is simply a normal, casual part of life.
Categories: Other Voices
/