Shopping Cart
Your Cart is Empty
There was an error with PayPal
Click here to try again
Thank you for your business!
You should be receiving an order confirmation from Paypal shortly.
Exit Shopping Cart
The New Millennial Gay Experience
Being gay in our emerging new world
| | |
| --- | --- |
| Posted on February 26, 2014 at 4:20 PM | |
By Lane Forsman
Last week we had a Patrick/Richie centered episode. This week we get to catch up with the rest of the guys. We open on Patrick talking to Richie about introducing him to his friends. Patrick is obsessively telling Richie about his friends and what to expect (during which we get the second mention that Patrick and Dom met through a hook-up, though much more explicitly this time). Richie says, "if you're tweaking out about me meeting your friends I can skip it." At least we know Richie is observant. Patrick is obviously "tweaking." He would never admit it, even to himself, but Patrick obsesses about things and wants them to be perfect. So this situation must be hell for him because he has almost no control over how it goes.
We move on to Dom, who is with Lynn (Scott Bakula) and some of Lynn's friends. The meeting starts a little rocky when Dom's attempt at humor falls flat, but then we learn Lynn has brought Dom here to help him look for investors. Dom starts in on Peri Peri Chicken (which I can only spell because I Googled it), and I wonder how successful this can actually be when no one knows what he is talking about. There is a jump to Dom and Lynn cleaning up the kitchen after the meeting. We find out Dom turns 40 tomorrow, and that explains some of his urgency, especially for someone like Dom who so clearly values youth. Lynn effectively and appropriately smacks Dom down for his issues regarding his 40th birthday. I loved it.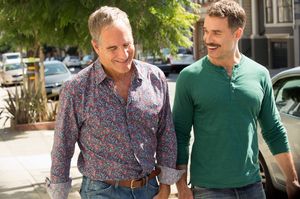 Lynn and Dom
On a side note, I love Scott Bakula in this role. I grew up on "Quantum Leap" and I'm a big "Star Trek" fan, so the fact that he also starred in "Enterprise" gave me two leading roles of his that I followed. This character is a departure from those sci-fi roles but full of Bakula's characteristic humanity and ability to fill out a complete character. I know he has been cast as one of the leads in the most recent "NCIS" spin-off, and that makes me wonder about the future of Lynn in this series. I think it would be unfortunate to lose Bakula's presence on the show.
Agustin is at home with Frank mulling over pictures he's taken, and having an artistic meltdown. Frank tries to help, but it all goes wrong. I'll be honest, I like the show, but I'm getting bored with Agustin. Sometime in the next couple episodes we need motivation for his behavior or some progression in his journey, or he risks becoming stale. The other guys have all had trajectory to their stories. Agustin just seems stuck, but in a juvenile way. We do learn that he has invited CJ (that's the prostitute's name) to Dom's party. Frank puts on a good face, but is obviously a little bothered by it.
We move back to Patrick and Richie getting ready to leave for Dom's birthday shindig, which is where Richie will be meeting everyone. While they're finishing up Richie says that when it comes to being Patrick's boyfriend "he's in." It's a really cute scene and one of the few times Richie has been truly vulnerable so far.
Dom and Doris are on the bus headed to his party, and she quite astutely points out the obvious. The thing that is going on between Dom and Lynn is different than his typical interaction with other gay men. So, the writers want to pound that into us.
Patrick, Richie, Agustin, Frank, Owen (Patrick's Asian co-worker), and Owen's girlfriend all arrive before the guest of honor. They're interacting and Agustin is being less than subtle about his disapproval that Patrick and Richie are an item. We move on to some more jovial friendship interaction that ends in Patrick embarrassing himself as Kevin walks up, because of course. Aaaaannnndddd we meet John, Kevin's boyfriend, who has apparently moved to San Francisco permanently after landing a sports medicine job with the baseball Giants. Richie wanders up, and Patrick, feeling insecure, inevitably does something stupid by denigrating what Richie does.
Dom gets some flowers delivered to him at his party. We aren't told by whom, but I can only assume it's Lynn. Later, Dom gets hit on by a muscled-up 20-something and has a less than immediate response. I'm pretty sure the writers are pushing him more towards Lynn at this point.
Patrick asks Agustin for his opinion about Richie. After it starts off not so kind, and Patrick hits back a bit about him inviting CJ., Agustin comes out and says that Patrick is slumming. Richie overhears and confronts him. Honestly, if Richie had decked him I wouldn't mind. Agustin needs to grow up a bit and realize that life exists beyond the adolescent ideal.
After Patrick has separated Richie from Agustin they're walking around, and Richie asks the appropriate question: "Are you embarrassed of me?" Clearly, Patrick is embarrassed about certain aspects of their relationship. They are great until Patrick actually has to introduce him to people, because Patrick defines his world based on the perception of others. We all do that to some extent, but unfortunately Patrick is one of those people who doesn't quite know when to separate the judgment of others from his own judgment. His wonderful idea for smoothing things over is to invite Richie to his sister's wedding. Richie immediately knows that's a bad idea, along with anyone watching who has been paying attention.
Agustin and Frank are being filmed having sex by CJ. Frank obviously has reservations. At this point I really think Frank is agreeing to things just because he doesn't want to lose Augustin, not because he has any real desire to participate. Things seem to get a little too real for Agustin when he gets behind the camera, and CJ and Frank have a rather passionate moment.
Dom ends up at Lynn's, where it is confirmed that he sent the flowers. Dom learns that Lynn's friends have decided not to fund his restaurant. Lynn puts a plan together to try and help Dom get his investors, and Dom responds by kissing him. Lynn responds less than favorably, which I understand and I expected, but I still think this is the relationship Dom needs in order to finally outgrow his 20's. I also still think it will happen, but the writers need to create more suspense around it than this.
We end the episode finding that Patrick and Richie have gone home together, so there has been some resolution of their conflict, at least temporarily. Also, I gather that Richie knows Patrick isn't a doctor at this point since he met his boss. I just wish that had been more explicitly addressed.
Categories: Other Voices
/