Shopping Cart
Your Cart is Empty
There was an error with PayPal
Click here to try again
Thank you for your business!
You should be receiving an order confirmation from Paypal shortly.
Exit Shopping Cart
The New Millennial Gay Experience
Being gay in our emerging new world
| | |
| --- | --- |
| Posted on February 26, 2014 at 12:40 AM | |
By Farid-ul-Haq
A lot happened in this episode. That's what I'm liking about the season. None of the episodes have felt like filler, and the plot keeps moving. So, let's get to it.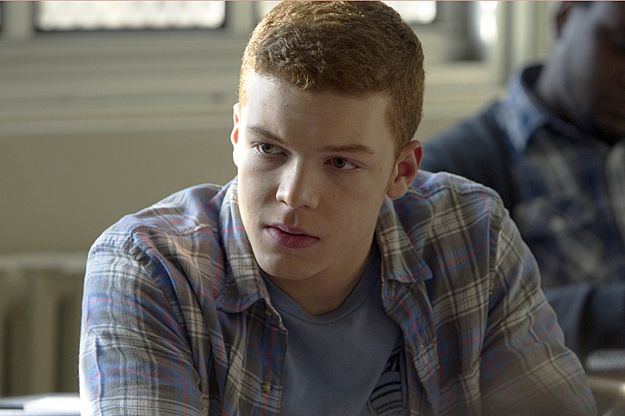 Fiona and Lip
The confrontation was bound to happen. Lip has a lot on his plate, and you can tell he's trying his hardest to take care of his family while attending college. He isn't interested in Fiona's help, and he starts stealing food for the house. He even takes Liam to college with him. How he's able to make such a trip is a mystery. Wasn't he supposed to be in MIT or something? Or was his college never that far and I just thought so? Anyway, back to the story. The girlfriend of Lip's roommate helps him take care of Liam. I'm looking forward to seeing how this new relationship works out.
As for Fiona, was it just me or was she not taking enough blame for her actions? She spent time in jail, but it felt as if she was trying to lessen the blame Lip was throwing at her. Maybe what Lip said did make sense to her in the end because she accepted the plea and was placed under house arrest. I guess the financial situation isn't going to get better any time soon.
Carl and Debbie
I am really enjoying Carl this season. He's creepy, but that's part of his charm. The scene where he tried to find out through an online quiz if Liam is retarded was quite funny. This episode did wonders for the sibling relationship Liam and Carl share.
Debbie had to face the reality of breakups in this episode and didn't take it well. I hope she doesn't make self-harm a thing. Debbie is a smart girl. The girls she's hanging out with are the ones who are messing with her head. She needs to make new friends, and fast.
Frank and Samantha
I think Samantha isn't over her "romantic" feelings for Frank. The scenes they shared were uncomfortable for me. Yes, she was trying to take care of him, but it just didn't come across as a healthy parent-child relationship. I think the writers are really going to kill off Frank this season. William H. Macy has done an amazing job as an actor. Do I feel sorry for him? No. But I wasn't expecting him to be so close to death just four seasons in.
Ian and Mickey
I saved the best for last! I loved how Mickey went to search for Ian. He even told Ian that he didn't have to meet him any more if he didn't feel like it, but he had to go back to his family. Yes, Mickey is a bad boy, but you can't help but love the character after watching him do what he can to make sure Ian was safe. He took Ian to his place, and his wife was not happy about it. I don't think Ian will be able to live there. Especially if Mickey's father shows up. At least he can go home if he's kicked out.
Did I like Ian? No. I just can't understand how Ian could become the way he is. He came across as quite sensible to me in the last three seasons. Yes, he loved Mickey, but I still can't find an explanation to why he would continue to harm himself. I hope Ian sets things right, and fast. The Gallaghers need to function as a unit.
There was no Sheila this week...sigh!
Categories: Other Voices
/