Shopping Cart
Your Cart is Empty
There was an error with PayPal
Click here to try again
Thank you for your business!
You should be receiving an order confirmation from Paypal shortly.
Exit Shopping Cart
The New Millennial Gay Experience
Being gay in our emerging new world
| | |
| --- | --- |
| Posted on February 24, 2014 at 11:50 PM | |
by Dback
For God's sake, people, stay away from Uganda, despite its being the backdrop for "The Book of Mormon." Massive anti-gay legislation was signed there this past week that could lead to imprisonment, torture, night raids, and all sorts of other nasty things. Give your tourism dollars to South Africa, which was ahead of the curve on gay rights decades ago as part of their dismantling of the apartheid system.
Arizona governor Jan Brewer has till the end of the week to sign the "religious exemption" legislation that reached her desk. Ostensibly designed to protect 1st Amendment religious freedom rights, it could lead to a new round of LGBT discrimination and/or ostracization. Even legislators who were previously on board with it are now having second thoughts, and Senator John McCain has weighed in as being opposed. My friends and family members in Arizona must be on pins and needles right now—even the Republicans. (Arizona also once refused to recognize Martin Luther King Jr.'s birthday, a decision that cost them the Superbowl a few years back.)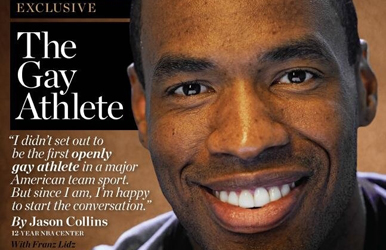 Jason Collins, openly gay NBA basketball player, played for the Nets against the Clippers last night. No word on whether or not any freeballin' was involved. (Between Collins and Michael Sam, isn't it nice to have such high-profile gay athletes of color in the news?)
11-year-old Bronie enthusiast Michael Marones was upgraded to "stable" in North Carolina this weekend and is breathing without a respirator for longer and longer periods of time. If you have a few extra dollars to help donate to his recovery fund (he may need a special wheelchair depending on if there is brain damage) that would be a great gesture. Consider downgrading your designer coffee drink of choice one size for Lent and send his family's fund the difference.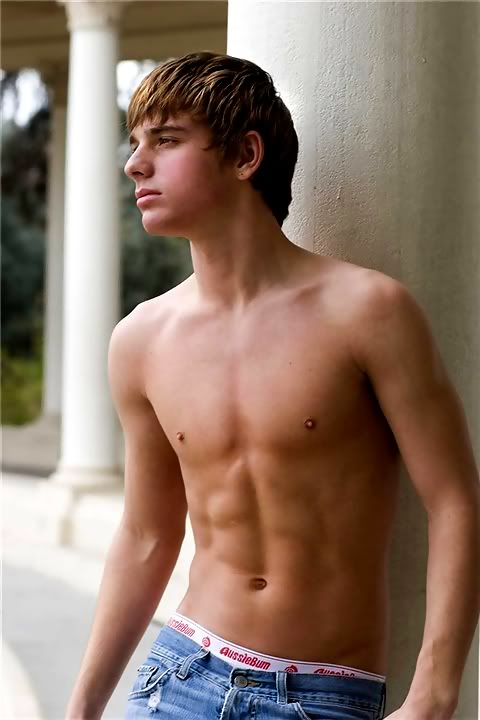 I'm glad you mentioned Brent Corrigan, Dback, so I could print this photo!
Brent Corrigan made an announcement that he is returning to the, umm… "industry" that made him famous. Corrigan, aka in real life as Sean Paul Lockhart, proved himself a charming and charismatic actor in "Judas Kiss," and was the only redeeming thing in "Another Gay Sequel," playing Stan the Merman. Here's hoping he continues to have opportunities to display all his…talents.
From our "living well is the best revenge" department: openly bi Dutch athlete Ireen Wüst picked up 5 medals—two gold, three silver—at the Sochi games in speed skating. Boo-ya! (Does anyone still say this? If not, I think it needs a comeback.)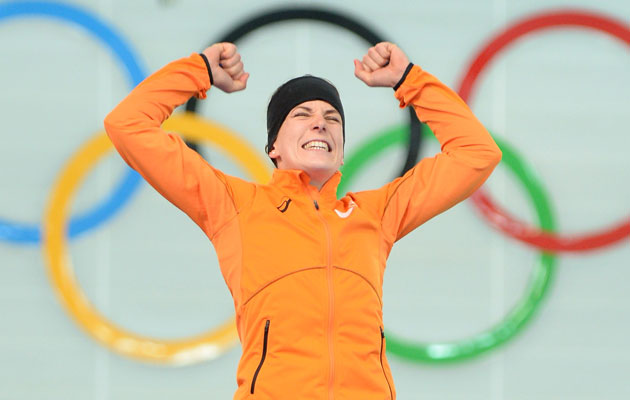 Olympic 5-medal winner Ireen Wust
Amazon put out a very subjective list of their Top 100 books to read in a lifetime. On the plus side, LGBT authors and subjects were represented by, among other titles, "Me Talk Pretty One Day," "Middlesex," "On the Road," and "The Amazing Adventures of Kavalier and Clay." However, any list that has room for "The Very Hungry Caterpillar" at the expense of "The Wonderful Wizard of Oz" and "Peter Pan" is somewhat suspect in my eyes.
The gay-straight friendship comedy "Date And Switch" is currently in select theaters, and has a 60% (Fresh!) audience rating on Rotten Tomatoes. Get out and see it, or if it's available via VOD, rent it!
The All-Blacks, a New Zealand rugby team, did an underwear layout and shoot this week, and, yes, there's video—and confirmation of God.
Special get-well wishes to major gay political mover and shaker/essayist/Former Friend Of Bill (Clinton)/blogger David Mixner, who had some health problems this week and had to be hospitalized. Mixner's autobiography "Stranger Among Friends" is one of the best memoirs I've ever read by someone on the front lines of gay politics, with some truly harrowing details. (One chapter involving the disappearance of a seemingly "perfect" guy Mixner dated for a few months in his youth will give you the willies.) Here's a prayer for a speedy recovery and hope that he sticks around awhile, despite his graceful note written from the hospital that he's "ready to go." I want him to live long enough to see marriage equality in the majority of the states.
Here's hoping you had a great week!
Categories: Other Voices
/