Shopping Cart
Your Cart is Empty
There was an error with PayPal
Click here to try again
Thank you for your business!
You should be receiving an order confirmation from Paypal shortly.
Exit Shopping Cart
The New Millennial Gay Experience
Being gay in our emerging new world
| | |
| --- | --- |
| Posted on February 18, 2014 at 10:25 PM | |
By Farid-ul-Haq
Things kind of settled down in this week's episode. We saw the Gallagher clan retrenching and trying to decide what to do after the traumatic events that have recently happened to them.
All about Lip and Fiona
Almost all of the episode was about those two, and rightfully so. Fiona and Lip are the oldest, and are responsible for what happens to the young members. Lip and Fiona have fought each other before and I was waiting for Lip to blow off on her again. We didn't see that in this episode, but Lip's demeanor was a clear indication that he wasn't happy with his big sister. To prevent social services from taking Liam away, Lip set out to find his father (more on that later), and he didn't have time to listen to the pleading Fiona.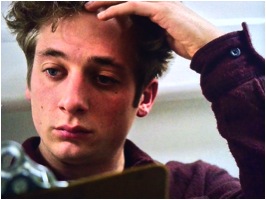 Lip in a pensive mood
Emily Rossum really shone this week. The actress has great acting chops, and I hope the Emmys acknowledge the talent on the show. Her scenes in the prison were heart wrenching. Even if I wasn't liking her character at the start of the series, I have since started to feel sympathy for her. I hope this latest experience opens her eyes and she tries to set things right for the family. The scene where she broke down on the phone was quite strong. Lip just listened to his crying sister and how much she loves Liam, but he hung up on her when the doctor called. I feel a big fight coming between those two.
He also had a scene where Kev tried to defend Fiona, but Lip wasn't interested in listening to how "what happens to Liam wasn't anyone's fault."
Frank and Samantha
I don't if the show is going to kill Frank. His condition doesn't look good. It's not as if I will feel sorry if he dies. It's just that he has been a constant antagonist of the kids, and they know how to fight him. If he dies and a new threat arises, defeating him or her won't be easy for the Gallagher clan.
Samantha is still taking care of him. I don't trust her. Why is she showing so much concern? Maybe she wants to claim the insurance payout from his broken leg?
Ian and Mickey (looking ahead)
There was no Ian this week…sigh! However, I watched the previews for the next episode, and it appears that Mickey will confront Ian at the gay bar where he is working. Here's to hoping he knocks some sense into Ian.
Categories: Other Voices
/