Shopping Cart
Your Cart is Empty
There was an error with PayPal
Click here to try again
Thank you for your business!
You should be receiving an order confirmation from Paypal shortly.
Exit Shopping Cart
The New Millennial Gay Experience
Being gay in our emerging new world
| | |
| --- | --- |
| Posted on February 17, 2014 at 1:10 AM | |
by Dback
Hello and welcome to the That Was The Gay Week That Was, a lighthearted recap and examination of news that has a special gay angle or interest to it.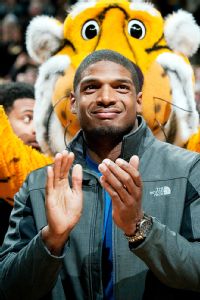 Michael Sam
First of all, from our Odd Couple department: a very large African-American football star and a diminutive white female Oscar nominee both made big splashes this week. Michael Sam just came out, and is on the short list for the NFL draft after proving his prowess on his college team in Missouri, where his former teammates apparently couldn't care less about his sexual orientation. Ellen Page, an Oscar nominee for Juno, then came out with a high-profile HRC speech that spread across the web like wildfire. We offer hearty congratulations to both of them and hopes for further career highs in the future, and really hope they present something together on an award show so we can see him carry her in the palm of his hand.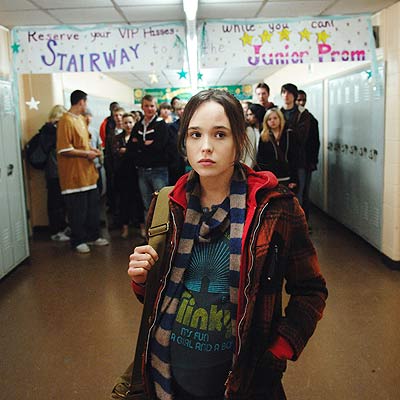 Ellen Page in "Juno"
Good news and bad news on the state marriage front: courts in Virginia—as in "is for lovers"—finally found that bans on same sex marriage are unconstitutional. This, you may recall, is the same state that took the question of whether or not there was a right for interracial couples to marry all the way to the U.S. Supreme Court several decades ago in the infamous Loving vs. Virginia. (That was the name of the couple, Loving, and they won, BTW.) You can't make up stuff this good.
As a counterbalance to all those red states toppling like dominos on same-sex marriage, Kansas has now introduced legislation to try to do an end-run around marriage equality and allow a "religious exemption" that would allow churches, hospitals, etc. to discriminate against gay people. If a gay paramedic refuses to assist/revive a member of the Westboro Baptist Church, does he get to use this "religious exemption" excuse? What in Oz would Dorothy Gale think of all this?
An adorable 11-year-old boy named Michael Morones in North Carolina was being unmercifully teased and bullied over his love of My Little Pony. The bad news is that he tried to hang himself from his bunk bed and has been in the hospital for a couple weeks. The good news is now he's awake, starting to breathe on his own, and hopefully didn't suffer any brain damage due to being without oxygen for several minutes. The hospital and the family are reportedly being inundated with donations of money, supportive videos and cards, and "MLP" merchandise. Bronies unite!
In one of the more curious examples of the "celebrities dying in threes" meme, Matthew Santos of 1 Girl 5 Gays passed away this week, following on the heels of immortal child star Shirley Temple and TV comedy godfather Sid Caesar. No cause of death has been released regarding Santos' passing, but this definitely puts a sad period on the end of what we knew as the "classic" version of 1 Girl 5 Gays.
Apparently they're still having some sort of sporting event in Russia, where gay people aren't being treated very well? I've been busy re-alphabetizing my CD's. However, Billie Jean King will be at the closing ceremonies.
Looking debuted awhile back on HBO (OK, it wasn't this past week, so sue me), and was immediately hailed/condemned for 1) not being the gay male version of Girls; 2) not being the gay male version of Sex and the City; 3) not being an updated version of Queer As Folk and 4) not being very interesting. We can all agree that Jonathan Groff is adorable, though, yes?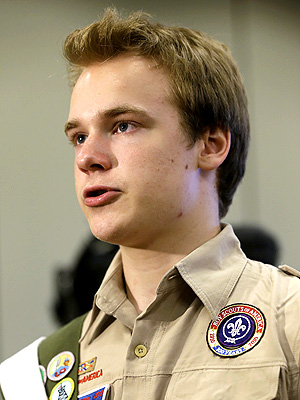 Eagle scout Pascal Tessier  (Photo:   Tony Gutierrez,  AP)
We finally have an openly gay Eagle Scout! Pascal Tessier from Maryland has the honors—though, of course, he can't now become a Scout LEADER due to their policy banning openly gay Scoutmasters. (Honestly, though, no one ever figured out that a Boy Scout named Pascal was gay?)
Teen Wolf continued its very weird storyline with Stiles getting possessed/split in two, energy monsters, scary Japanese people with masks, etc. It did, however, offer up a lengthy Scott-Stiles hug to keep all the slash fiction writers on their toes if they've been burning out on Sterek lately.
Good news: Ian's back on Shameless!  Bad news: he seems to be having some sort of substance abuse problem, which is the only explanation for the eyeliner and glittery silver tank top he was wearing in the Boystown bar. Also: Fiona broke up with Mike, so I guess we won't be seeing his hot ass in action again. (On the other hand, a Mickey/Ian reunion scene would probably melt the TV.)
Some sort of big film awards go down two weeks from tonight on Sunday March 2nd. I wouldn't know, I haven't been following them since The Incident Of 2006, where the worst-reviewed, least-awarded film of the nominees somehow snuck off with the top award ahead of Brokeback Mountain. (Does this mean in 75 years they'll be celebrating the 75th anniversary of Brokeback, just as this year they are celebrating the diamond anniversary of Best Picture nominee The Wizard of Oz?)
Most of the country remains buried in snow, so if you can (safely!) hook up with a hairy snugglebunny, and (safely!) have some fun staying indoors and playing Getting Sweaty With The Yeti, go for it.
Talk to you soon. (Next week? Two weeks? We're not completely sure exactly where we're going with this!)
Categories: Other Voices
/