Shopping Cart
Your Cart is Empty
There was an error with PayPal
Click here to try again
Thank you for your business!
You should be receiving an order confirmation from Paypal shortly.
Exit Shopping Cart
The New Millennial Gay Experience
Being gay in our emerging new world
| | |
| --- | --- |
| Posted on February 12, 2014 at 7:55 PM | |
By Dennis Stone
If you are not familiar with the Radical Faeries, prepare to be amazed! There is nothing like them within the queer and alternative communities.
The self-description below by someone using the moniker "Constance Craving" gives a good feel for what the group is about. I'm quoting it at length because it is so perfect.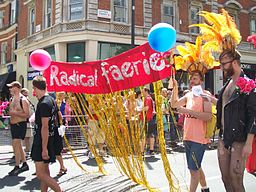 Photo:  By AnemoneProjectors (Radical Faeries Uploaded by MaybeMaybeMaybe) [CC-BY-SA-2.0 (http://creativecommons.org/licenses/by-sa/2.0)], via Wikimedia Commons

"The Faeries are both gay men, and men who prefer to use any other moniker that might describe them, as well as women who wish to be a part of the group, and people who choose not to be called men or women and beings who choose not to be called people. Faeries are organized as a group attempting to create community out of ritual and cooperation, except for faeries who are attempting to create community out of subversion of process and structure, as well as some faeries who wish to create chaos, often celebrating it, often not admitting it.
"Many faeries are spiritual, lifting whole or part of their spirituality from any one of the world's religions or spiritualities. Some make up their own. Some make a mix. Some react against spirituality and religion as its own evil, some find a spiritual path in reacting against spirituality.
"Some Faeries just want to dress up in drag and perform in the woods, some want to dress up and not perform, some faeries want to dress up anywhere they can, some faeries don't dress particularly different than they would in any other environment.
"Some faeries combine their spirituality with sex, some don't, some are part of the faeries just to get laid. Some resent that. Some just want to drum by a campfire, and some want to camp far away from the drumming and get some sleep.
"This is what faeries are, except for faeries for which none of this applies."
I kind of get the feeling there isn't a whole lot of structure or rules or expectations!
Credit for creation of the Radical Faeries generally goes to the iconic gay pioneer Harry Hay, co-founder of the Mattachine Society and the Los Angeles chapter of the Gay Liberation Front, in addition to the Faeries. His 90-year long life spanned the years 1912-2002, so he experienced pretty much the entire gay journey, from the darkest days to the dawn of freedom and acceptance.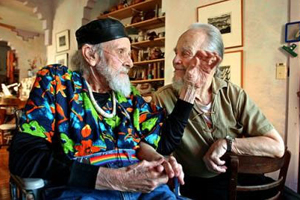 Harry Hay and John Burnside
The cultural landscape of the late 1960s and the 1970s was an ideal breeding ground for the idea of the Faeries. There was a strong communal spirit (leading to a multitude of "hippie" communes), a surging interest in alternative spiritualities, a burgeoning back-to-nature ethos, and a growth of gay consciousness and gay power following Stonewall.
In 1975 the author and gay rights advocate Arthur Evans had formed a counter-cultural group called the "Faerie Circle," which shared many of the attributes of the later Radical Faeries. In 1979 the "Spiritual Conference For Radical Fairies" was organized by Hay, his lover John Burnside, and two others. It led to multiple other gatherings and eventually became a movement. Hay attached the name Radical Faeries to the movement. The word "faerie" served two purposes. It referenced the magical, spirit-world creatures of folklore, but also referred to the use of "fairy" as a slur. In that sense it was the first attempt to reclaim a gay pejorative and convert it to a positive term.
Hay had been influenced by Native American spirituality as a child, and he felt a special kinship to the "Two-Spirit" aspect of it after he realized at the age of 11 that he was very different from his peers – both in terms of his sexual attractions and his masculinity. His realization that as a homosexual he was part of a "secret society," combined with the influence of Marxism, led him to the strong lifelong belief that gays were a distinct "cultural minority" that should exist separate from the rest of society. Assimilation was to be avoided at all costs. The influences of Native American culture, spirituality and the desire to celebrate the uniqueness of gay people helped to shape the Radical Faerie ethos. I'll let historian and Faerie Joey Cain express that ethos:
"We are a network of faggot farmers, workers, artists, drag queens, political activists, witches, magickians, rural and urban dwellers who see gays and lesbians as a distinct and separate people, with our own culture, ways of being/becoming, and spirituality. We believe that, as a people, we have unique and necessary contributions to make, ones that we must make to help regain the lost balance of the larger human community here on the planet.
"Being radically (at the root) decentralist and anti-authoritarian, we have no leaders. Each Faerie is divine and speaks for himself. We join together with each other in mutual aid and love for play, work, self-discovery and nurturing. To be a Faerie is an act of self-definition.
"While we have no dogma, there are common visions which we share and celebrate. Some of these are: a belief in the sacredness of nature and the earth; honoring the interconnectedness of spirit, sex, politic and culture; an understanding that each one of us has our own path (or paths) which leads to the Garden of Who We Are, and that, by uniting with each other in circles, gatherings and sanctuaries, we can increase the joy of weeding and tending our gardens together; a commitment to the process of group consensus; and a belief that we are each other."
The Radical Faeries continue to exist today. The dream of owning sanctuaries where anti-establishment ideals of independence, anti-materialism, spirituality, reverence for nature, and plain old goofy-ass "play" can thrive has been fulfilled with several locations throughout North America, and others scattered throughout the world.
I have a lot of respect for the Radical Faeries, owing to my own roots in most of their ideals. But I think the idea of radical separation from the rest of society is increasingly unnecessary. Hay thought assimilation was so negative because he saw it as a capitulation to the oppressor, a hiding from one's true identity. "We pulled ugly green frog skin of heterosexual conformity over us, and that's how we got through school with a full set of teeth," he said. "We know how to live through their eyes. We can always play their games, but are we denying ourselves by doing this? If you're going to carry the skin of conformity over you, you are going to suppress the beautiful prince or princess within you."
That idea was true at one time. "Playing their games" to get through life was indeed soul-destroying, did indeed hide the prince or princess within us. That was the pain of the closet, the pain of pretending to be other than what we were. But today many of us – indeed, most of us - don't face that choice. We can just be ourselves; the beautiful prince need not be suppressed. If "assimilation" is giving in, or hiding, it's an ugly thing. If it's just being your natural self, equal to the natural straight beings around you, then it's the culmination of our journey.
The Radical Faeries were a wonderful, beautiful revolution at one time. And even today they embody much of the beauty of the human condition. To each his own, I always say. But in some basic respects they are becoming an anachronism, a part of history, a joyous, individualistic response to the realities of a different time.
Categories: History Lessons
/