Shopping Cart
Your Cart is Empty
There was an error with PayPal
Click here to try again
Thank you for your business!
You should be receiving an order confirmation from Paypal shortly.
Exit Shopping Cart
The New Millennial Gay Experience
Being gay in our emerging new world
| | |
| --- | --- |
| Posted on December 11, 2013 at 1:30 AM | |
Alternate Title:  Dback's Guide To Life As A Gay Man
By Dback
A few weeks ago it seemed the internet had a minor rash of fluffy-but-fun articles listing various "Things Every Gay Man Should Do By Age 40" or "Things No Gay Man Should Do After 35," etc. As the "New Millennial Gay" website tends to focus on a slightly younger demographic—and since I like the number 21 as it's my birthday this month—I've decided that our site needs a list of its own. Call it "Things Every Gay Man Over 21 Should Know." (And yes, this is completely my own opinion, and I welcome other's contributions and bon mots.)
1) Know your history. You are a thread in a tapestry that stretches as far back as all of human existence. Our people have been venerated as Two Spirits, reviled as freaks, cast away as outsiders, blamed for the fall of empires, tortured and murdered for sport—yet still, we survive and thrive. We create art. We formulate new ideas. We fill the world with color, song, and dance. We teach and guide youth into becoming tomorrow's leaders. We illuminate and transform the page, the blank canvas, the celluloid, the sports field, the political office, the classroom. We are a handful of drag queens broken-hearted over Judy Garland's death, who decided to throw bottles instead of shade—and changed the modern world. Know the history of our leaders, our martyrs, our thinkers, our creators, and our activists; they helped create this world for you.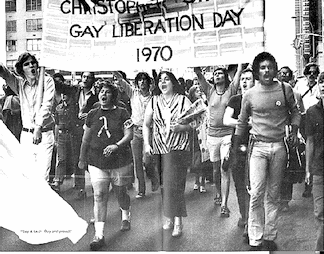 2) Know your turf. This means knowing what gay resources are in your 'hood/town/city/state, besides where and how to find sex. Know employment laws, marriage laws, discrimination laws, etc. If you're not happy or you can't find a community, or the law does not treat you as a full and equal citizen, consider moving.
3) Know what you want/like, and what you don't. It takes a few times in the sack for some of us to figure out what we like and what we don't, and it may change over time. (Ironically, the older I get, the more attracted I am to "hot daddies.") Ask: is anyone being hurt—including myself—by my turn-ons? Do I feel safe, happy, cared for and caring, and alive during sex? Do I convey what I want/like, and do my partners respect that? There is a support group or resource for every quirk/predilection/fetish out there. Tell your partners what feels good, and ask them to tell you. If you feel unsafe, disrespected, or degraded/embarrassed, leave or kick 'em out. Which leads to…
4) Know how to be safe. Not just using condoms properly to help prevent STD's, but also how to meet people for dates, how to avoid seedy or dangerous areas that might have gay bashers lurking nearby, how not to get "roofied," how to say "no" if sex begins to be uncomfortable/weird/outside of boundaries, and how to get help.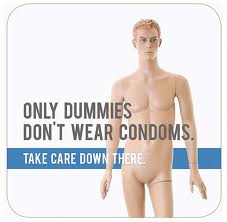 5) Know your culture. Read some of the cornerstones of gay literature (Dancer From the Dance, And the Band Played On, Maurice, A Boy's Own Story…). See some of the important gay-themed films (Brokeback Mountain, Milk, Cabaret, La Cage Aux Folles, My Beautiful Laundrette, Beautiful Thing…). Understand the importance of music, and why gay men of yore (and today) love their divas. Know who know these iconic, influential women were/are.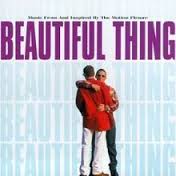 6) Know someone outside of your comfort zone. It is very easy and comfortable to fall into a niche and hang out with people just like you, especially if you're all close to the same age and have common interests. Don't be intimidated or afraid to mix it up with people different from you. Maybe they've done drag (or they're a Sister!), or maybe they like leather and uniforms. If you're a decorator, hang out with a jock and ask him about his life; if you're a bear, spend an evening hanging out with a twink or a sweater queen or a muscle daddy. Not only will you get a variety of life experiences from which to learn, you may find someone who's completely hot in a way you never expected.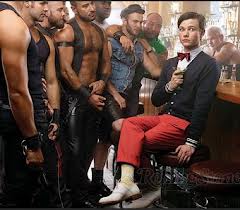 7) Don't label yourself. We used to be much more militant about what we called ourselves (see: "Loving Someone Gay", which we now might call "Queer"). These days, however, we're hopefully more tolerant of blurring the lines of identity, as long as people are open about their affections. Does it matter what we call things? Generally speaking, I'd say no, as long as you're comfortable with what/who you are, or your boyfriend is. However….
8} Do label/define your relationships. This will help avoid hurt feelings. It doesn't matter if you're friends, boyfriends, fuck buddies, or an occasional "fling"—but make sure you're both on the same page as to what you are, so nobody's feelings get hurt. For example: "I thought we were keeping this casual;" "I didn't know we could see other people;" etc. (Addendum: no rebound relationships. A booty call is one thing, but don't break someone else's heart right after yours got broken. This is very, very bad karma.)
9) Know how to use technology judiciously. Tech can be your best friend, but also your worst enemy. Know how to set parameters on your electronic sites/profiles, i.e., what's shared with the world. As Thomas Friedman put it, you are no longer You, the individual; in today's world; you are also a brand—and over-sharing or being indiscrete can be damaging to you in ways you can only begin to imagine. Keep your passwords safe, watch out for recurring charges on certain sites, and remember to log off and interact with human beings now and then.
10) Know how to perform Life 101. Know how to survive the basics—how to fix a running toilet, plunge a clogged drain, put chains on your car, set up and maintain phone/cable/internet accounts, etc. In an increasingly automated and bureaucratic world, fewer and fewer people will be able to help you, so get ready to fork out a lot of money to various repair people, or be prepared to spend some time on the internet doing research or navigating phone networks.
Tomorrow:  part 2.
Categories: Other Voices
/