Shopping Cart
Your Cart is Empty
There was an error with PayPal
Click here to try again
Thank you for your business!
You should be receiving an order confirmation from Paypal shortly.
Exit Shopping Cart
The New Millennial Gay Experience
Being gay in our emerging new world
| | |
| --- | --- |
| Posted on November 4, 2013 at 12:05 AM | |
By Dennis Stone
When I was born I was mentally ill.
That's because when I was born I was gay (though I didn't recognize it for 19 years), and at that time all gay people were classified as mentally ill. Not only did everyone take it for granted, but the American Psychiatric Association and all other such organizations said it was true.
It's not difficult to see why people believed that. The continued existence of the species requires that men and women have sex, and so it's easy to interpret evolution (or God's hand) as creating a "normal" mechanism for producing new humans. The penis and vagina evolved or were created for that purpose, and sexuality was the means to propagation of the species. It would obviously be "unnatural" to distort that evolutionary function in a way that doesn't produce children. And if one has a sexual desire only for members of the same sex, which produces nothing and goes against the innate purpose of having children, how could something so contrary to the natural order of humanity be anything but a mental illness?
In addition, scientific studies of homosexuals showed that they had far higher rates of depression, suicide, and all sorts of other psychological problems than did heterosexuals.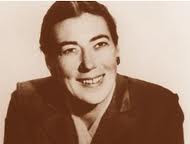 Dr. Evelyn Hooker
One of the first indications that this characterization of homosexuality might be incorrect came from the pioneering work of UCLA psychologist Evelyn Hooker. She had noticed that the homosexuals in earlier studies, including an influential study published in 1962 by Dr. Irving Bieber, were all people incarcerated in mental hospitals or prisons, or who had sought psychological treatment. She conducted a more scientifically valid study that chose gay people who had never sought treatment, and she carefully matched them with a group of straight people who were similar in age, IQ, education, etc.
Hooker gave psychological tests to 30 gays and 30 straights, and then provided the results to three psychiatrists with extensive experience in treating patients and interpreting such tests. They were unable to pick out the gay subjects, and they classified two thirds of each group as normal and well-adjusted.
Hooker's work was published in 1956, but the American Psychiatric Association in those days was a very conservative body, and there was no movement to change the classification of homosexuality as an illness. The social upheavals of the 1960s, and the gay movement epitomized by the Stonewall riots in 1969, generated some new thinking among younger psychiatrists. Gay activists of the era pushed things along themselves. They somehow obtained press passes and appeared at the 1970 APA convention in San Francisco, lustily booing the speech by Bieber. They appeared again in 1971.
At about the same time a group of gay psychiatrists began to meet and talk. They became known as the "Gay PA." Since gay people were prohibited from practicing psychiatry they had to hide their identity and conduct their meetings in secret. What today seems like an odd attribute of this group was that they accepted the classification of homosexuality as an illness. They were meeting primarily out of a sense of solidarity. As Gay PA member John Fryer later said, "because of our own internalized homophobia, most of us probably agreed that it was OK to be a disease."
A second group of young movers and shakers began to meet, and they were more intent on challenging the mental illness classification. Called by some "the young turks," they met in the Massachusetts home of Dr. John P. Spiegel, who would be elected president of the APA in 1973. Some members of this group were gay (including Spiegel, who was married at the time and didn't come out to his family until 1981, after the death of his wife, who had known about her husband's homosexuality), but others were not. Their intent was to change the dynamics and policies of an organization they had come to see as too conservative and behind the times. The classification of homosexuality as a mental illness was just one of the things they were interested in changing.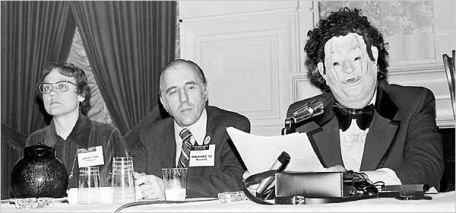 Dr. John Fryer addressing the 1972 APA convention in disguise.
At the 1972 convention there was discussion of the gay issue within the psychiatric community, not just by gay activists crashing the meeting. Dr. John Fryer, quoted above, gave a speech to the group about how damaging the mental illness diagnosis was to gay people. Fryer had been fired from his job and had difficulty getting another because of the gay rumors around him. He gave his speech in disguise, with a wig and wearing a Richard Nixon mask, his voice altered by a special microphone. His speech received a standing ovation.
At the 1973 convention there was a full-on confrontation between the old guard, led by Bieber, and the young turks, led by Ronald Gold, Judd Marmor and others. The reception to the speeches showed that the young turks were carrying the day. That evening the Gay PA and members of the young turk group met at a gay bar. Attending along with Gold was Dr. Robert Spitzer, an influential member of the Nomenclature committee, and someone who was straight and had held on to the traditional view of homosexuality. But he was open-minded about it, and had become friends with Gold.
At the bar an army psychiatrist entered on his own, not part of the Gay PA or young turk groups. He was gay, but had never before been in a gay bar. Something about Gold's speech earlier that day convinced him to go to a gay bar for the first time. When he saw Gold and the other gay psychiatrists there he was overcome, and broke down sobbing. Gold believes that the incident caused Spitzer to decide on the spot that it was time to rewrite the gay illness classification. They went back to Spitzer's hotel room and did exactly that. The end result was the following new entry in the APA's official DSM (Diagnostic and Statistical Manual of Mental Disorders).
302.0 Sexual orientation disturbance (Homosexuality)
This category is for individuals whose sexual interests are directed primarily toward people of the same sex and who are either disturbed by, in conflict with, or wish to change their sexual orientation. This diagnostic category is distinguished from homosexuality, which by itself does not constitute a psychiatric disorder. Homosexuality per se is one form of sexual behavior and, like other forms of sexual behavior which are not by themselves psychiatric disorders, is not listed in this nomenclature of mental disorders.
The new language stated for the first time that homosexuality itself is not a disorder, but it remains a disorder for those who were "disturbed" by their orientation. The new classification was accepted by the APA, though only about 55% of the membership voted for it. The change was announced in December 1973, and took effect as part of the new DSM II in 1974.
The American Psychological Association followed suit in 1975, and other mental health organizations gradually changed their positions as well. The World Health Organization held on to the designation of homosexuality as a mental illness until it, too, finally changed in 1990. A significant number of psychiatrists and psychologists vehemently disagreed with the new outlook, some to this day. They considered it a bowing to political pressure rather than a legitimate re-evaluation of psychiatric thought.
In 1987 the DSM was amended further, with the removal of all mentions of homosexuality being related to illness. So even people who had problems with their orientation were not considered ill because of their orientation.
Imagine a young boy or girl coming of age as a gay person in the 1960s or earlier. Virtually all of Christianity and the other religions of the world considered them not only a sinner, but one of the worst sinners. Psychiatry considered them to be suffering from a mental illness. Popular culture talked about a shadowy world of depraved child molesters and pathetic freaks to be avoided at all costs. Mentally ill, depraved and going to hell. It's a wonder any gay person emerged from that environment with any sort of self confidence and normal functioning.
The social revolutions of the 1960s and early 1970s helped pave the way for new ways of thinking, for a new openness to alternate ways of life. The Stonewall riots and the "gay is good" movement gave gay people a ray of hope, and an indication that maybe they weren't the monsters they were taught they were. And then the American Psychiatric Association officially determined that they were not mentally ill. They were different, but they were "normal." For many this announcement was a revolution in their lives and their perception of the world. I have no doubt that many lives were changed, and many lives were saved.
Categories: History Lessons
/