Shopping Cart
Your Cart is Empty
There was an error with PayPal
Click here to try again
Thank you for your business!
You should be receiving an order confirmation from Paypal shortly.
Exit Shopping Cart
The New Millennial Gay Experience
Being gay in our emerging new world
| | |
| --- | --- |
| Posted on September 7, 2013 at 2:45 AM | |
By Dennis Stone
Peter Marshall, host of the television game show "Hollywood Squares":  "What do you call a man who gives you diamonds and pearls?"
Paul Lynde:  "I'd call him darling."
Peter Marshal:   "For what reason might you pound meat?"
Paul Lynde:  "Loneliness".
Those quips, and many others uttered by comedian and actor Paul Lynde, are remarkable because they appeared on network television during the 1966 – 1981 run of "Hollywood Squares." That was an era when gay people were essentially invisible in most of public life and culture, and certainly on television. To today's viewers who remember him or see clips of his appearances Lynde was obviously gay. His campy mannerisms and vocal inflections were exaggerated in a way similar to Liberace, and he pulled off the same trick as Liberace – acting overtly gay, seeming to invite rumors, and yet remaining closeted. His biographers, Steve Wilson and Joe Florenski, described him as "Liberace without a piano." And as with Liberace, the overwhelming majority of Americans didn't get it.
A lot of gay people got it,though. Many who grew up during those years, or were already adults, saw him as a kindred spirit, and as a sort of icon. To many he was the only public gay person – apart from Liberace – that they saw in public life. As an article by the "Paley Center For Media" put it: "Fellow gays cherished Lynde for honing to perfection what could only be described as "the bitchy queen," lobbing a withering retort at straight-laced America, who laughed as well at what they perceived to be nothing more than a "quirky" comedian."
On the other hand, Lynde was not a happy man, descending into alcoholism, heavy smoking, run-ins with the law, and unpleasant interactions with co-workers and friends. While some gays looked up to him as a pioneer, others were not so charitable. As Wilson and Florenski put it, "In some ways, he came to symbolize what's perceived to be a self-loathing era for gay culture."
Peter Marshal: "You're the world's most popular fruit. What are you?"
Paul Lynde:  "Humble".
Lynde was born in 1926. He decided to become an actor after his mother took him to see the silent movie version of "Ben Hur." Among his fellow drama students at Northwestern University were Cloris Leachman, Jeffrey Hunter, and Patricia Neal.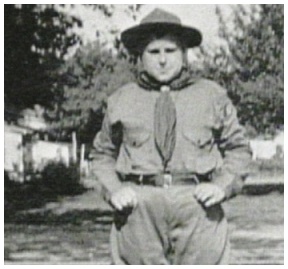 Paul at age 12.
After graduation he moved to New York City, became a stand-up comedian, and got on Broadway as part of a revue called "New Faces Of 1952," which became a movie of the same name. In 1956 he started a long run of sitcom and variety show appearances by co-starring in a short-lived sitcom named "Stanley." His co-stars were neophyte actors Carol Burnett and Buddy Hackett!
His big break was when he got the starring role of Harry McAfee in the Broadway show "Bye Bye Birdie," which then became a hit movie.  After that he worked non-stop, guesting on many sitcoms, issuing a comedy album, doing voice work in cartoons (most notably "Charlotte's Web"), etc.
In 1966 came the move that changed his life and ensured his legacy. He became a part of a new game show called "Hollywood Squares," a celebrity tic-tac-toe game. He soon became the "center square," which ensured he'd get the most questions. He became hugely popular, thanks to his witty and often risqué one-liners, and also to his unique delivery. To straights that delivery was that of a sarcastic yet lovable smart-ass. To gays it was the bitchy (though still endearing) queen personified. In a 1974 poll Lynde was voted as America's favorite comedian. He won two Emmy awards for his work on the show.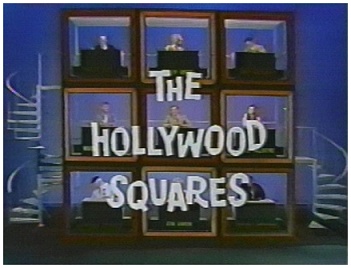 Peter Marshal: "Diamonds should not be kept with your family jewels. Why?"
Paul Lynde:  "They're so cold!".
Paul's gay life got him into some trouble during his life. In 1965 he was out drinking with a young actor named Bing Davidson, thought to be Paul's lover. They went back to their hotel and were goofing around. Davidson started to show off, and ended up falling eight floors to his death. The story was kept out of the press, which may well have saved Paul's career. The next year he began his stint on Hollywood Squares.
Lynde was a regular on the "Donny and Marie" variety show from 1976 to 1978. Early in 1978 he was arrested outside a gay bar in Salt Lake City, and he lost his job as a result.
His drinking also got him into trouble. He was a "mean" drunk rather than a "happy" drunk, and he routinely abused his friends and others. In a notorious incident in 1978 he hurled racial slurs at a black man in line with him at a fast food restaurant. The man was a Northwestern professor, and he disclosed the incident to the press, resulting in a public apology. In 1979 he left "Hollywood Squares." Some stories say he was fired for his alcoholism, others that he left in a salary dispute and because he no longer enjoyed the job.
Peter Marshal:  "It is the most abused and neglected part of your body. What is it?"
Paul Lynde:  "Mine may be abused, but it certainly isn't neglected!"
Throughout the 1970s Lynde continued to be immensely popular, and he worked steadily in television and the movies. In 1972 a sitcom, the "Paul Lynde Show," was created for him, with him in the unlikely role of a husband and father.  He was nominated for a Golden Globe as Best Actor, but the show was canceled after a season. He starred in a second series in 1974, but that also failed. Earlier, he had appeared in four pilots that were not picked up.
After he left "HollywoodSquares," replaced in the center square by Henny Youngman, the show's ratings fell. The producers talked him into coming back in 1980, though he no longer enjoyed doing the show. The show was cancelled less than a year later.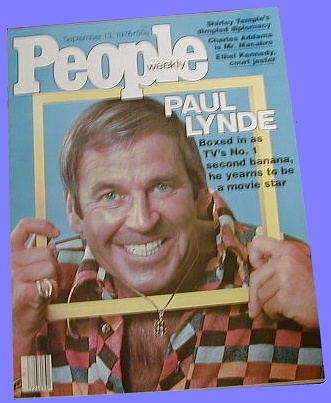 In 1980 he became sober and drug free following a mysterious "event" that he alluded to but never described. However, by then the damage had been done, and he died of a massive heart attack in January 1982 at the age of 55. The coroner said that he had the heart of an 88-year old man. There were many rumors around his death, including sex with a prostitute, a lover who left him alone after his heart attack, etc. None of those rumors were actually true.
Peter Marshal:  "What unusual thing do you do, if you have something called 'the gift of tongues'?"
Paul Lynde:  "I wouldn't tell the grand jury; why should I tell you?"
Paul Lynde's legacy as an entertainer is secure. He was a unique voice, with a classic persona and impeccable timing. He had a knack for being sarcastic and bitchy, and yet lovable at the same time. Many fellow comedians have paid tribute to him, including Mel Brooks, who said he could be funny simply by reading "a phone book, tornado alert, or seed catalogue."
As for his legacy as a gay man I have a lot of respect for him, despite his flaws, especially how he acted while drunk. He never came out publicly, but he was out to his friends, and to some degree he outed himself with his quips. He didn't try to hide his identity at all, and that was more than most gays could say in the 1960s and 1970s. He was a troubled man, but who knows how much of that came from his unease about being gay. People have other issues, you know, even gay people. Lynde grew up with weight issues, and the entertainment life is inherently destabilizing. So I salute him for his bravery in being himself, even though he never publicly said the "magic words."
Peter Marshal:  "In 'The WizardOf Oz,' the lion wanted courage and the tin man wanted a heart. What did the scarecrow want?"
Paul Lynde:  "He wanted the tin man to notice him."
Check out these video clips of the vintage Paul Lynde wit:
The latter clip is from Paul's guest appearance on "I've Got a Secret." Note how he talks about his sitcom role as a father, and how "that's hard to believe." Note also the laughter of the panelists, and the reaction when Steve tells Paul to whisper his secret in his ear. Most viewers had no idea of the subtext. That's the epitome of being "openly closeted."
Categories: History Lessons
/