Shopping Cart
Your Cart is Empty
There was an error with PayPal
Click here to try again
Thank you for your business!
You should be receiving an order confirmation from Paypal shortly.
Exit Shopping Cart
The New Millennial Gay Experience
Being gay in our emerging new world
| | |
| --- | --- |
| Posted on August 31, 2013 at 7:05 PM | |
by Andy Nemec
Everyone knows that humanity is full of every type of person – good or bad, remarkable or ignorable, engaging or dull, and everyone who sits at any point of any spectrum. Gay people are no exception, of course. We have our heroes, and our villains. As much as we admire the leaders who've fought for our rights, we also have to acknowledge that there have been others who've done quite the opposite. History would not reflect the gay human experience in its entirety if we only talked about the victories and the admirable people who worked for those victories. We also have to talk about those who worked against us, even if they were one of us. Toward that end, meet Roy Marcus Cohn.
Roy Cohn was by profession a lawyer. Born February 20, 1927 in New York City, he went on to graduate from the Columbia Law School at the age of 20. He was formally admitted to the bar on his 21st birthday and subsequently worked in the United States Attorney's office in Manhattan. He prosecuted several high-profile espionage cases, and acted as prosecutor in the Julius and Ethel Rosenberg trial.
Eventually he attracted the attention of J. Edgar Hoover, who recommended Cohn for the job of Chief Counsel on Senator Joe McCarthy's Senate Permanent Subcommittee on Investigations. In spite of its ambiguous title, the committee was most famous – notorious, really - for its investigations of suspected Communists. These investigations are widely known today as unproductive and damning "witch hunts." However, in the fearful Cold War days of the 1950s they were taken seriously (for a time).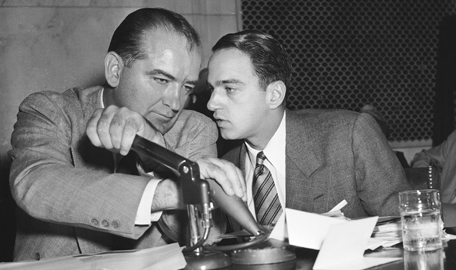 Roy Cohn (right) advising Sen. Joseph McCarthy at the Army-McCarthy hearings, 1953.
Cohn also tried to, in spite of his own homosexuality, tie Communism and homosexuality together. This was at the urging of Army lawyer John G. Adams, who had offered that a particular Air Force base was home to a "large number of homosexuals," which he later denied. It was alleged that Adams' suggestion was designed to throw off McCarthy's investigation of Communism in the Army, and instead direct McCarthy's attention toward another perceived threat – homosexuality in other branches of the Defense Department.
Being gay was viewed as both a security risk (a gay soldier could be blackmailed by the enemy) and a shortcoming – a gay soldier was not viewed as having the strength and moral compass that being a warrior requires. Additionally, Communism was viewed as being sympathetic to gay people, and as a result, gay people in the Defense Department and other branches of government were thought to be sympathetic in kind.
As a result of Cohn improperly influencing witnesses in the McCarthy committee's investigation of Communists in the Army, he was forced to resign.
Cohn went on to practice law outside of government, and was no stranger to both controversy and investigation. His client list had some famous names, as well – Andy Warhol, Donald Trump, John Gotti and the Roman Catholic Archdiocese of New York all sought his services. He kept strong ties to the conservative movement and even advised Presidents Richard Nixon and Ronald Reagan. Controversy continued to follow him; he was accused of professional ethics violations and financial improprieties resulting in his being disbarred in 1986, just one month shy of his death due to complications from AIDS.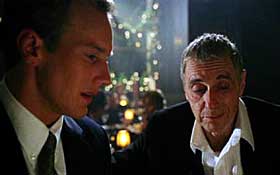 Al Pacino portraying Cohn (right) in "Angels In America."
By all accounts, those who knew him best described him as the archetype of a sleazy lawyer. He's been accused of going so far as to place a pen in the hands of a comatose man in an attempt to get him to sign a revised will making the man's granddaughter and Cohn the beneficiaries.
Cohn had a similarly dishonest approach to his own sexuality. He repeatedly denied being gay, and once told his doctor that he was not homosexual; rather, he was a heterosexual who "likes to fuck around with guys." This in spite of the fact that Cohn was unmarried and never had a successful heterosexual relationship. He did, however once date Barbara Walters and even spread rumors of an impending wedding (that never materialized).
However, there were plenty of stories and rumors of his gay relationships. One of note was with the handsome G. David Schine, a friend and fellow staffer on the McCarthy committee. Of course he denied any suggestion of such a relationship. One of his perhaps most well-known liaisons was with Richard Dupont, a Greenwich Village business owner. Cohn nearly bankrupted Dupont, who exacted revenge by painting "Cohn is a Fag" on the sidewalk outside Cohn's Upper East-Side townhouse. When Cohn was dying, Dupont continued to get his revenge by showing up at his bedside with a bouquet of wilted flowers. This was the type of response Cohn got from the people who knew him best – and were hurt by him the most.
Roy was a regular at Studio 54, the disco that symbolized everything that was wrong with disco in the late 1970s and early 1980s. Reports and rumors have him there frequently, and participating in the legendary "basement parties" that featured a lot of cocaine and sexual adventurism.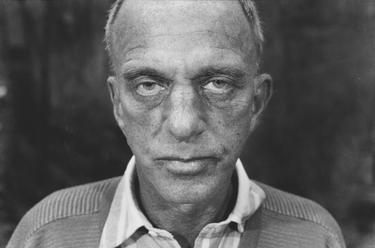 Roy Cohn in 1986, four months before his death. "He went with no regrets," according to a story in "Life Magazine."
Cohn never publicly acknowledged his homosexuality, even to his dying days. He denied having contracted AIDS, insisting that he was suffering from liver cancer.
Denying one's homosexuality was common among a lot of gay men in the 1950s. To people like Roy Cohn (as well as J. Edgar Hoover), gay men were, without exception, the "dandy type." In their minds, all gay men were highly feminized and had occupations that reflected that perception (hairdressers, florists, etc. - never lawyers or law enforcement specialists).Their self-loathing forced them to completely deny even the possibility that, even though they slept with men, they were gay. While this phenomenon was a product of anti-gay bias prevalent at the time, it was especially deceitful when it came from Cohn.
In spite of his public protestations to the contrary, Cohn did acknowledge his sexuality privately, at least on one occasion. He confided that he regretted being gay for one reason – he would never become President of the United States because of it.
With his history, there were, of course, a multitude of reasons why he would never be president. He conveniently overlooked the fact that he was a member of an infamous Senator's staff, was considered a sleazy lawyer who once tried to forge a signature on a comatose man's will, associated with much-hated people like Leona Helmsley, and had mob connections.
In his mind, all of those things were secondary to the evil of being gay.
Categories: History Lessons
/