Shopping Cart
Your Cart is Empty
There was an error with PayPal
Click here to try again
Thank you for your business!
You should be receiving an order confirmation from Paypal shortly.
Exit Shopping Cart
The New Millennial Gay Experience
Being gay in our emerging new world
| | |
| --- | --- |
| Posted on August 21, 2013 at 2:45 AM | |
By Dennis Stone
The sinking of the Titanic has always held a fascination for me. The story has it all. The massive loss of life, including many famous and/or fabulously wealthy people. The hubris of "the ship that couldn't sink", with lifeboats for less than half of the passengers. The band playing until almost the very end. The "unsinkable" Molly Brown, a millionairess. The cultural disparity between the wealthy first class passengers and the steerage passengers. The rumors of one or more male passengers boarding a lifeboat by dressing as a woman. The passenger ship anchored just miles away that fatally ignored the Titanic's flares. The wife of Macy's owner Isidor Strauss refusing to leave him for a lifeboat. Leo Dicaprio and Kate Winslet living an entire romantic life in a day. And on and on.
One of the famous first class passengers who died that night was most likely gay, and a second very possibly was, according to extensive research done by historian James Gifford. Painter Frank Millett had been in a romantic relationship with the writer Charles Warren Stoddard in Venice in 1875. Stoddard was a rarity of the time in that he was strictly gay. Millett was more conventional in that his sexuality was expressed in a more fluid manner. He had intense relationships with men, but ultimately married. As historian Jonathan Katz puts it, at that time the "hetero/homo division had not yet been invented."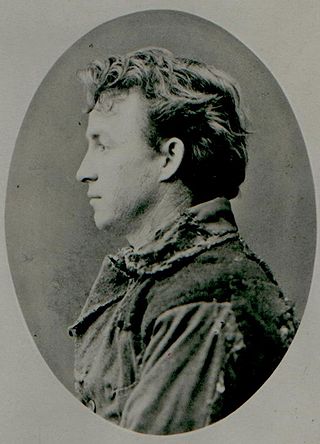 Frank Millett, 1875
The writings of Stoddard leave no doubt of his "appreciation" of men, or of his relationship with Millett. Millett's letters to Stoddard, recently published by Outhistory.org, show that the feelings were entirely mutual. They met at the opera in Venice in late 1874, and Millett immediately invited Stoddard to stay with him. His letters make it clear that they shared a bed. Katz again: "Lack of space did not explain this bed sharing, and Stoddard's earlier and later sexual liaisons with men, his written essays and memoirs, and Millet's letters to Stoddard, provide good evidence that their intimacy found active affectionate and erotic expressIon."
Stoddard eventually left Millett, and Millett's letters indicate that he was devastated by the breakup. Eight months after he knew that Stoddard would not "settle down" with him he began talking about his upcoming marriage to a woman. Though once married, he spent much of his time living alone, including for awhile as a boarder in the house of Archibald Butt.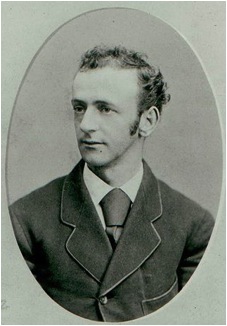 Charles Stoddard
Archibald Butt (what a terrific name!) was a well known and influential military aide to two presidents, Theodore Roosevelt and William Howard Taft. Historian Gifford did an exhaustive study of his life, and came to the conclusion that it was likely he was gay, though it could not be proven. Butt was a lifelong bachelor, and Gifford describes him as "camp", a "dandy", "impeccably dressed", having an interest in antiques, etc. Gifford concedes none of those things proves anything, but when all his research is taken into account his conclusion is that Butt had at least some level of sexual interest in men. Katz suggests he may have been a "repressed homosexual."
It's interesting to note that Butt rented rooms to a multitude of single men over the years. Frank Millett also rented from him for awhile, and the two became close friends. It was a letter from Millett to President Taft that convinced Taft that Butt, run down from job stress and a persistent stomach illness, needed a vacation. In March of 1912 they sailed to Europe, sharing a stateroom. In early April they boarded the Titanic, this time with separate rooms.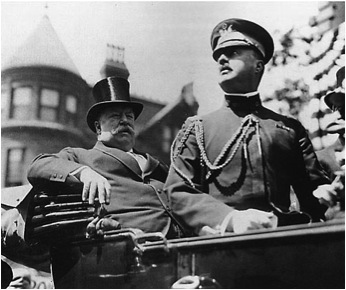 Archibald Butt with President Taft.
Gifford could find no indication that the two men were lovers, but they did seem to have a close friendship. An article in the Washington Times a week after the sinking said this: "Major Butt thought highly of Millet, and the latter of him. On the older man Major Butt leaned for advice and took it, and the two men shared a sympathy of mind which was most unusual. None could help admiring either man." Another article said this: "No Damon and Pythias friendship could have been closer than the friendship of Major Butt and Millet." In some quarters "Damon and Pythias" was a code phrase for a gay relationship.
I was interested in all things Titanic long before James Cameron's movie came out. And now that I know about Frank Millett and Archibald Butt the story has an even greater resonance for me.
Categories: History Lessons
/