Shopping Cart
Your Cart is Empty
There was an error with PayPal
Click here to try again
Thank you for your business!
You should be receiving an order confirmation from Paypal shortly.
Exit Shopping Cart
The New Millennial Gay Experience
Being gay in our emerging new world
| | |
| --- | --- |
| Posted on August 6, 2013 at 12:00 AM | |
By Dennis Stone
"I now pronounce you husband and husband."
With those words Pastor Roger Lynn married Jack Baker and Michael McConnell on September 3, 1971, perhaps the first legal gay marriage in the United States. The two men kissed, and Lynn had a reaction that surprised him. It was jarring, what he called a "visceral reaction". He had never seen two men kiss before, and he wasn't ready for it. "It was frightening," he recalled many years later. "It forced me to come to terms with my own homophobia."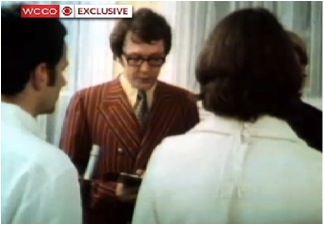 Lynn officiating at the Baker/McConnell wedding.  (Photo from WCCO TV - Minneapolis)
His reaction was and is surprising - to him then and to us now - because he was a supporter of the concept of gay marriage, and he had worked with Baker and McConnell at a Minneapolis drop-in center where counseling was provided to gay people. His pro-gay feelings were partly generated by the suicide of a childhood friend who had been persecuted for being gay, and also by his best friend at the seminary coming out to him. The Methodist church had a history of taking strong stands on social issues, and Lynn's progressive nature was one of the things that led him to the church. And yet he was troubled when the two men kissed after the wedding at which he officiated.
There's a lesson there for gay people today. But it will have to wait until later in this article. First, the rest of the Roger Lynn story needs to be told.
Lynn had not been the first choice to perform the marriage. Another Methodist minister had been chosen weeks in advance, and had done the traditional pre-marriage counseling. But 24 hours before the wedding he dropped out, apparently afraid of the reaction. When asked to step in, Lynn had no hesitation. He knew it would be a big story, but he also felt it was the right thing to do. The Methodist church at that time had no rules against marrying two men (that rule would come a year later), and so he had no reservations. He was even more sure of what he had done following the ceremony, when many guests approached him in tears to thank him for being a part of the historic moment.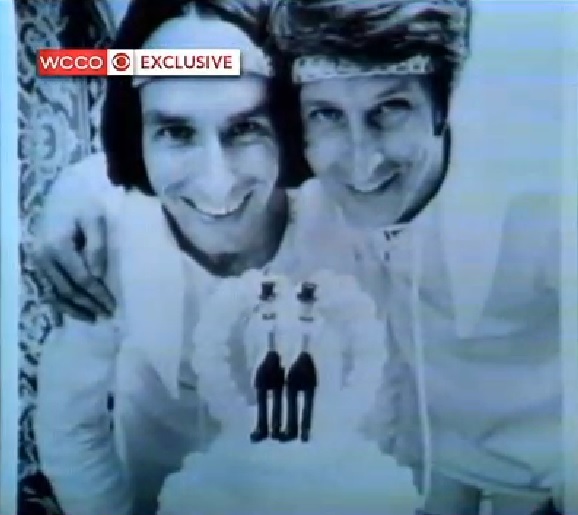 At the wedding.  (Photo:  WCCO TV  -  Minneapolis)
The wedding was big news around the nation, and especially in Minnesota. It changed Roger Lynn's life forever. His actions were investigated by the Methodist church. Many online sites have stated that he was fired and then later reinstated. However, from Lynn's own words in a recent interview it appears that he was not fired. The bishop found that he had done nothing against church rules.
His marriage did not fare as well. His wife did not oppose gay marriage in principle, but she did not approve of Roger's activist role and the reaction it generated, or the overall movement of his ministry toward the non-traditional. The week after the Baker/McConnell wedding Lynn and his wife attended church, and the pastor devoted his sermon to vilifying what Lynn had done. The marriage eventually ended in divorce, though Lynn says there were other issues in addition to his role in the gay wedding.
He received a lot of negative phone calls and hate mail from around the country, including one letter from Boston addressed simply to: "Gay Hippie Minister, Minneapolis". The letter somehow reached him. Overall, he estimates that the reaction to him was about half positive and half negative. It actually seems remarkable to me that in 1971 the positive reaction matched the negative.
There were two conservative pastors who would routinely heckle Pastor Lynn when he made speeches. It turned out that one was closeted and eventually hit on him. The other made his daughter promise him on his deathbed that she would continue trying to bring Lynn "back to God."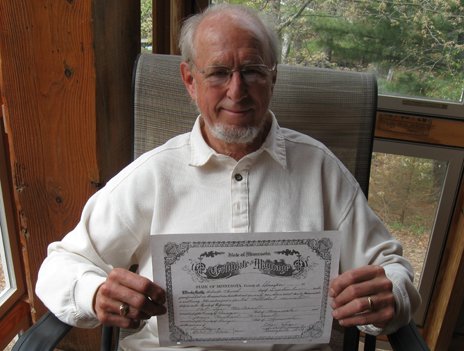 Roger Lynn today, holding a copy of the marriage certificate.  (Photo by Sasha Aslanian  -  Minnesota Public Radio)
Roger Lynn today is 74, retired, and living north of Minneapolis. He remarried in 1988. In his retirement he has spent time working with mental health issues, youth ministry and other causes. He guest-preaches about once a month, goes to the gym three times a week, does yoga and meditation, and visits his children and grand-children. He and his wife are building an eco-friendly house complete with earthen walls and solar panels.
I wish Roger Lynn were my neighbor!
So what about that lesson we should learn from Lynn's visceral reaction to the kiss at the end of the Baker/McConnell wedding? Lynn recognized right away that despite his experiences and his political position he had an underlying level of homophobia that he would have to deal with. Which he did. We have to remember that social conditioning and psychological imprinting are extremely powerful forces. Most people today were raised in an environment where same sex physical contact was never talked about, or was joked about, or whispered about. And was certainly not seen. All around them were images and videos of "normal" male/female interactions, and if they were straight there was really no other way to view the world. Further, most people are religious, and many have grown up being taught that homosexuality is against God's plan.
A lifetime of those influences creates automatic reactions that are not easily overcome. And, as with Roger Lynn, those automatic reactions are generally there no matter what one's political or philosophical position might be. Those feelings and reactions have to be actively worked through. And to a large degree people have to be desensitized by exposure. That is why shows like "Glee" and others are so important. If kids see gay people interacting physically they will be much more likely to see it as normal, and not have those traditional "squeamish" reactions.
We as gay people have to be understanding – and not get offended – when straight people who support our rights are not completely comfortable with same sex physical interaction. A lifetime of conditioning takes time to overcome, and we must give them that time. An actor who expresses discomfort with kissing another man on screen is not our enemy. Someone who treats us with respect and supports our rights, but is uncomfortable when two males kiss on TV, is not someone to criticize.
Each succeeding generation will be more and more comfortable with gay contact as a routine part of life. For those not there yet let's understand how conditioning works, and be tolerant.
Here is a link to a video that includes actual footage from the wedding.
Categories: History Lessons
/