Shopping Cart
Your Cart is Empty
There was an error with PayPal
Click here to try again
Thank you for your business!
You should be receiving an order confirmation from Paypal shortly.
Exit Shopping Cart
The New Millennial Gay Experience
Being gay in our emerging new world
| | |
| --- | --- |
| Posted on August 1, 2013 at 8:40 PM | |
By Dennis Stone
They met at a Halloween party in Norman, Oklahoma in 1966. Jack Baker was outgoing, passionate, overtly political. Michael McConnell was more introverted and analytical, but also had a quiet passion for social justice. They were perfect for each other, and they were soul mates.
A few months later, in March of 1967, Baker asked McConnell to "join their lives together". McConnell accepted, though he had one condition: someday they would be legally married.
The couple moved to Minneapolis after Baker, an Air Force veteran, was fired from his job at Tinker Air Force Base for being gay. McConnell obtained a job at the University of Minnesota Library, and Baker became a law student at the school. In 1969 Baker joined the gay activist group FREE – "fight repression of erotic expression" – and soon became its president. FREE was officially recognized by the University as a campus organization in 1969, only the second gay group officially recognized in the country by a university. (A group at Columbia University was the first.) FREE had some notable success in getting Twin Cities businesses to adopt anti-discrimination policies, and helped create a university guideline requiring non-discrimination policies for companies recruiting on campus.
As I indicated in my first story, Baker and McConnell's quest for marriage began in 1970 with their first application for a license. The quest was time consuming and led to several court challenges. When he was asked why they pursued the case so diligently, Baker said "the love of my life insisted on it." In the first article I linked to a video of their appearance on the "David Susskind Show." They also were featured on the influential and popular "Phil Donahue Show", and in a major story in "Look" magazine.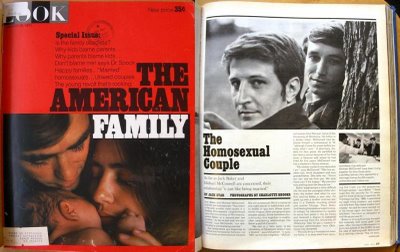 The "Look" magazine story.
But there was a lot more going on in their lives than the marriage quest. In 1971 Baker was elected president of the student government, a notable achievement for a gay person. His election was six years before Harvey Milk was first elected. The next year he was re-elected, the first time a student body president had been re-elected in the history of the university.
McConnell, meanwhile, was encountering employment discrimination in his career. The library had promoted him to be the head of the cataloguing division. However, after the notoriety created by the marriage application, the Board of Regents rescinded the offer and then fired him – solely because he was openly gay. Much of the university was remarkably gay friendly in 1971, but the Board Of Regents was not. Said one of them: "homosexuality is about the worst thing there is."
McConnell sued, and won in district court. The university appealed and won. The court chided McConnell for pursuing "an activist role in implementing his controversial ideas concerning the social status to be accorded homosexuals and thereby to foist tacit approval of the socially repugnant concept upon his employer." The student body was strongly on McConnell's side. A poll asking if the university was justified in firing him for being gay resulted in 81% of the students saying "no", while only 10% said "yes."
McConnell's employment story has a happy ending. He was hired by the Hennepin County library system, where he had a long, successful career, retiring with a commendation in late 2010. In 2012 the president of the university issued a statement calling McConnell's treatment 40 years earlier "reprehensible", and apologizing for it. McConnell accepted the apology.
In 1972 Baker led the Gay Rights Caucus of the state Democratic Party, and that year the party included in its platform language calling for marriage equality. That was remarkable for 1972, and was the first time one of the major parties had included marriage equality in its platform.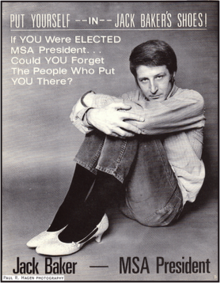 A campaign poster for Baker's run for student government president.
Baker graduated from law school in 1972, passed the bar exam and became a lawyer. Even that was not without controversy. He was forced to go before the State Board of Law Examiners because of allegations that he had fraudulently obtained his marriage license. The board chose not to act against him. As a lawyer he ran for Minneapolis City Council, and at least twice for the State Supreme Court. The general public was not as liberal as the University of Minnesota student body, and he lost those races.
Baker and McConnell more or less retreated from the public eye in 1980, and have lived a mostly private life since then. They did make news in 2003 when they submitted a revised 2000 tax return to the IRS, filing jointly as a married couple. The IRS rejected the amended return. Baker and McConnell had supplied the Blue Earth County marriage license as proof, but the IRS said that DOMA prevented them from accepting it, even if it were considered to be legal. McConnell sued over the issue, but lost the suit and the appeal.
Many observers have said that the 1972 court loss was detrimental to gay marriage rights because it set a precedent for other states to follow. While it did set a precedent, it's hard to imagine any state courts looking at the issue in the succeeding years. (Hawaii finally did look at it in 1993, and ruled in favor of equality.) I agree with Dale Carpenter, a constitutional law professor at the U. of M. law school. He acknowledged the precedent, but added: "You could also say they blazed a trail for others to follow. [They helped establish] the very idea that a same-sex marriage could exist. Legally it was a setback -- culturally and politically it was a planting of a seed. It's the way change happens. Somebody goes out there, takes a hit and others take up the banner after them."
Jack Baker said that the inevitability of gay marriage was apparent to him as a first year law student in 1970. Talk about being ahead of your time!
Categories: History Lessons
/