Shopping Cart
Your Cart is Empty
There was an error with PayPal
Click here to try again
Thank you for your business!
You should be receiving an order confirmation from Paypal shortly.
Exit Shopping Cart
The New Millennial Gay Experience
Being gay in our emerging new world
| | |
| --- | --- |
| Posted on July 23, 2013 at 12:00 AM | |
By Dennis Stone
1778 was not a good time for gay people. It was also not a good time for the soldiers of the thirteen American colonies in their fight for independence from England. But it was in 1778 that a gay military man helped turn around a war effort that was looking bleak. In fact, many historians think it likely that the Americans would have lost the war without the help of this gay hero.
In February of 1778 the American army had lost a succession of battles to the British, partly because they had no trained military leaders. At the time Benjamin Franklin was in Paris trying to obtain French aid, and Washington asked him to try to find military leaders to assist his troops.
Friedrich Wilhelm von Steuben, also known as "the Baron", happened to be in Paris at the time. He was a successful military strategist in Prussia – thought a genius by many – but had been forced to flee his country because of scandals surrounding his relationships with young men. Franklin knew of this situation, but nonetheless recruited him to help the colonies. The Baron accepted, likely to some degree because the French clergy was pressing to take action against him for his "crimes against nature".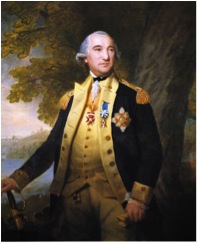 Baron von Steuben was not one to hide "his light" under a bushel. He arrived at Valley Forge during the revolution's darkest hour in an ornate sleigh (with jingle bells!), wearing a fur-trimmed silk robe, his pet dog in his lap. He arrived with a collection of servants including a French chef and his handsome 17-year old secretary.
Von Steuben went to work and swiftly transformed the ragtag American army into a fighting force that could hold its own with the highly trained and experienced British troops. He used methods that could be replicated from regiment to regiment, and that became a part of the official American training manual for many years.
After the war von Steuben remained in America, becoming a citizen and living on an estate in New York. And it's after the war that the story really gets interesting. He legally adopted two soldiers, Capt. William North (who eventually became a U.S. senator!) and Gen. Benjamin Walker. Von Steuben and Walker lived together until von Steuben's death.
It gets even better. Charles Adams was the son of then Vice President (and future president) John Adams, and the brother of future president John Quincy Adams. He was living with a young man named John Mulligan until VP Adams insisted they split up because of their excessive "closeness". Mulligan wrote to von Steuben, who invited both him and and Adams to move in with him, which they did. Adams left before long, but Mulligan, who was 19 when he moved in, remained the Baron's secretary until his death.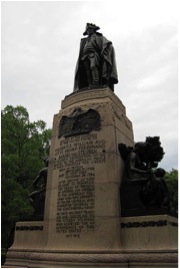 The statue in Lafayette Park
Several statues of von Steuben have been erected around the country. The most interesting is in Lafayette Park, just north of the White House. It's a life size statue standing atop a large granite base. On the left side of the base is a smaller statue of a seated Roman soldier teaching military secrets to a naked youth. In this context one has to wonder what those "secrets" were!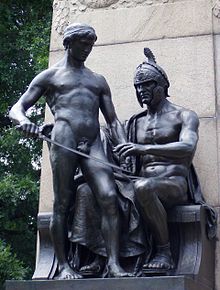 The left side of the Lafayette Park statue.
It's very possibly true that if Washington and Franklin had not cared more for von Steuben's genius than for the potential scandal of his homosexuatity the war for American independence would not have been won.
Categories: History Lessons
/