Shopping Cart
Your Cart is Empty
There was an error with PayPal
Click here to try again
Thank you for your business!
You should be receiving an order confirmation from Paypal shortly.
Exit Shopping Cart
The New Millennial Gay Experience
Being gay in our emerging new world
| | |
| --- | --- |
| Posted on July 9, 2013 at 10:25 AM | |
By Dennis Stone
In America much of the most vehement opposition to gay equality has come from the Christian church. (Though religion is certainly not necessary to produce a virulently anti-gay society, as we have seen under overtly atheistic regimes such as in China and the Soviet Union.) Because Americans have been and remain overwhelmingly Christian, that is a problem.
In recent years, however, Protestant Christian churches have begun to be part of the solution rather than part of the problem. Several now ordain gay people as pastors and have become overtly welcoming. Local congregations march in Pride parades. Other churches are on that path, and have at least begun to preach acceptance and condemn hate.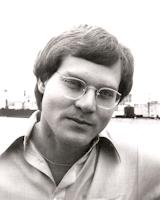 Bill Johnson in 1972
The changes within religion represent a massive cultural shift. Sometimes it seems like that shift began only recently. But as with any cultural movement the seeds are planted long before in small events, easily forgotten. On June 25, 1972, an important first step was taken when William R. Johnson was ordained as a minister by the United Church of Christ. He was the first openly gay person to be ordained in any Christian organization in the world. In 1974 Johnson co-wrote with Sally Miller Gearhart the book "Loving Women/Loving Men: Gay Liberation and the Church".
Here is a link to a documentary on YouTube about William Johnson and his ordination. It's about 18 minutes long and is called "A Position Of Faith".
Categories: History Lessons
/